Cross-Tab and Blueocean Merge to Form Course5
Blueocean Market Intelligence and Cross-Tab - both companies within the Cross-Tab Group - have merged to form a new business called Course5, which combines their analytics, artificial intelligence and insights capabilities for corporate and MR agency clients.

<! pod><! pod>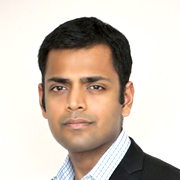 Course5 will offer a new suite of AI-driven analytics and market research solutions and services, and has already rolled out a near real-time tool called Course5 Discovery, which enables users to get answers and insights through a personalized Voice & Chat Assistant available on their smartphones and tablets. Powered by Natural Language Processing (NLP) and deep learning capabilities, these interactive assistants uncover insights by identifying relevant data and performing analytics modelling; and then communicate these insights in a 'natural conversational manner' to the business user.

Ashwin Mittal (pictured), CEO of Course5, comments: 'Through smart solutions and our proprietary AI technology we are bringing in a new paradigm in decision making and market research to assist our clients in preparing for a new digital future. Our name reflects our mission - we are going to enable our customers to chart a course beyond the four points of the compass, North, South, East, and West to the fifth direction which is the future'.

Cross-Tab Group's third company, emerging markets specialist Borderless Access, has been demerged and will operate as an independent entity.

Web site: www.course5i.com .