UK Fines Facebook Just £0.5m over Cambridge Analytica
The UK's Information Commissioner Elizabeth Denham has announced that Facebook will be fined £500k, the maximum amount possible but not much more than one millionth of the firm's Market Cap, for its part in the recent Cambridge Analytica data breach.

<! pod><! pod>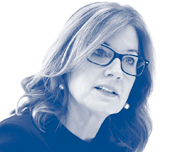 Earlier this year, Cambridge Analytica was accused of illegally collecting Facebook profiles which could be matched to electoral rolls. The problems centre around data provided by users of a personality quiz app, thisisyourdigitallife, created by Global Science Research and downloaded by around 270,000 people. Where users' privacy settings allowed, the app was reportedly able to gather data about their Facebook contacts, gleaning information on a total of tens of millions of individuals which was then available to Cambridge Analytica for political message targeting. The Information Commissioner's Office (ICO) is currently investigating how data belonging to an estimated 87 million Facebook users was improperly accessed.

Facebook is valued at £445bn ($590bn) and the scandal took place before new EU data protection laws that allow much larger fines came into force. The recently implemented European General Data Protection (GDPR) now caps fines at £17m or 4% of global turnover, which would be £1.4bn in Facebook's case. Erin Egan, Facebook's Chief Privacy Officer admitted his firm should have done more to investigate claims about Cambridge Analytica and taken action back in 2015.

Denham (pictured) said the fine is for two breaches of the Data Protection Act, explaining that the social media network failed to protect its users' information and that it was not transparent about how data was harvested by others. She comments: 'Facebook has failed to provide the kind of protections they are required to under the Data Protection Act. Fines and prosecutions punish the bad actors, but my real goal is to effect change and restore trust and confidence in our democratic system. This was a very serious contravention, so in the new regime they would face a much higher fine'.

Web sites: www.facebook.com and www.ico.org.uk .