Crimson Hexagon and Brandwatch Merge
Social media intelligence firms Brandwatch and Crimson Hexagon have signed a merger agreement, creating a new business with annual revenue of around $100m, under the Brandwatch name.

<! pod><! pod>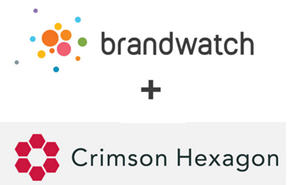 Both companies' products will continue to be supported and operate independently for an extended period, although work will begin immediately on integrating Crimson Hexagon's AI and historical data index with Brandwatch Analytics' data handling and flexible user interface.

The combined firm will also expand beyond social media intelligence, adding new data from 'marketing, customer behavior and market research sources', as Giles Palmer, founder and CEO of Brandwatch explains: 'In this digitally connected world, our vision is to transform how organizations understand their consumers through products that bring structure and meaning to the public voices of billions of people. This merger allows us to accelerate towards that vision and move beyond social listening to innovate at the cross section of brand, market and consumer intelligence'.

Crimson Hexagon CTO Chris Bingham describes his firm's AI capabilities as 'unmatched in this industry' and comments: 'I am very excited to know that our 11 year investment in AI and Machine Learning is so valued by Brandwatch, and that it will be at the very core of our new integrated platform'.

Brighton, UK-based Brandwatch was launched in 2007, has additional offices in New York, San Francisco, Berlin, Stuttgart, Paris and Singapore, with a Sydney launch scheduled soon. It has previously acquired PeerIndex (2013) and BuzzSumo (2017).

The merger is expected to close in Q4. The Crimson Hexagon brand may disappear, but the room after which it is named must logically still exist somewhere in the library...

Web sites: www.brandwatch.com , www.crimsonhexagon.com and www.wikipedia.org/wiki/The_Library_of_Babel .