Signals Gets Data Extraction Patent
In New York, advanced analytics platform Signals Analytics has been awarded a patent for the automatic extraction of information from unstructured data sources.

<! pod><! pod>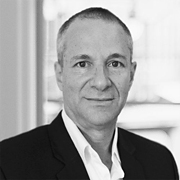 Signals combines market research with artificial intelligence to extract context from uncorrelated external data sources. According to the firm, the new patent validates its approach to enterprise AI and analytics using external data at scale, while easing the deployment and data management processes that it says are 'typically so difficult for companies to navigate'.

Analysts using the new system input their parameters, and the system automatically adapts the database structure and taxonomy of existing machine learning models to extract that information from text. The information is then pushed into visual models, without any further involvement from a development team.

Yoram Landau (pictured), VP of Research and Development, comments: 'While the need for data and analytics is well-established and budgets grow for these solutions, deploying advanced analytics ends up being very challenging for many companies and many analytic projects end up failing. Under standard frameworks, every time there is a new business question that requires new data sets to find an answer, software engineers have to write new code. This doesn't scale when resources are so limited and market conditions change so quickly like they are now'.

Web site: www.signals-analytics.com .