ISA Chairman Michael Halberstam to Step Down
Michael Halberstam, Chairman of data collection group ISA, is to leave at the end of the year after nearly 40 years with the business. He told DRNO that he will be looking for a new 'MR/insights adventure' in the very near future.

<! pod><! pod>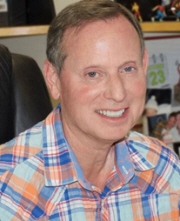 Sister company to MR and data analytics firm LRW (Lieberman Research Worldwide), ISA (Interviewing Service of America) comprises online sampling division SoapBoxSample, community insight platform icanmakeitbetter (ICMIB), and respondent recruitment and research specialist Q-insights. The group also specializes in multicultural / multilingual research, specifically with Asian and Hispanic Americans.

Halberstam (pictured) was instrumental in ISA's founding in 1982, becoming Director of Operations, then assuming the role of President in 1993, and six years ago becoming Chairman, overseeing all day-to-day operations. He began his career as a mall interviewer for Suburban Associates in Paramus, NJ, later becoming Suburban's Facility Manager, before moving to Los Angeles, CA to work for LRW as Assistant Field Director. During his career, Halberstam has focused on data collection, sampling, and the ethnic/multicultural aspects of the research industry.

While he doesn't yet have any definite plans, Halberstam says he hopes to be able to mentor and help others in the MR sector, maybe working with a company looking at new technologies. 'Forty years at one organization was fantastic but it's time to do something new and I felt the time was right', he explained. 'I'll look for a new MR/insights adventure in the very near future'.

ISA is online at www.isacorp.com .