SampleNinja Debuts 'Feature Rich' Panel Platform
Start-up SampleNinja has officially launched its panel management platform, to help researchers with dynamic profiling, respondent fraud detection, panelist recruitment validation, and multiple panel challenges. The founders describe it as a '21st century platform that is fit for purpose'.

<! pod><! pod>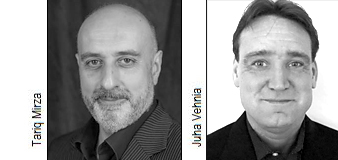 Set up by MR software industry veteran Tariq Mirza and Kinesis Survey Technologies co-founder Juha Vehnia, Austin, TX and London-based SampleNinja was established to provide fully automated sampling with 'advanced sample balancing', avoiding the need for constant adjustments as projects proceed. The firm's new panel management platform has now been rolled out to tackle current legacy issues around quality, security, scalability, and speed that exist with the industry.

Mirza says the platform enables dynamic profiling of a panelist to ensure that a panel is 100% fully 'data hydrated', with the ability to manage unlimited sub-panel environments and geo clusters/heatmaps to highlight project completes. Vehnia adds: 'We are particularly proud to offer an incredibly speedy, seamless and scalable SPA (single page application) platform, and more importantly, the whole environment is completely API driven. What that means for organizations is that functionality within the platform can be accessed either through our clean desktop-like interface, or by directly accessing the platform via the API. No one has ever offered such an open, extensive and flexible solution to the MR space before.'

Web site: www.sampleninja.io .