Bakamo Expands to Middle East via Partnership
Social media intelligence firm Bakamo has expanded to the Middle East via a partnership with Kuwait-based AlFikra Co, formalizing an existing working arrangement which it says has 'significantly increased through the pandemic'.

<! pod><! pod>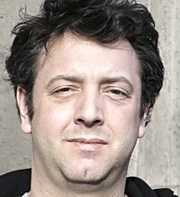 Bakamo, which has offices in the UK, Germany and the US, says it has worked in the Middle East region since its establishment in 2014 - primarily Iraq, Kuwait, Lebanon, Qatar, Saudi Arabia and UAE.

According to CEO Daniel Fazekas (pictured), 'Over the last 12 months we have worked closely with AlFikra Co for clients based in North America and Europe who are expanding their offering into the Middle East and we are delighted to formalise our relationship to strengthen the Bakamo offer moving forward. Zeinab Al-Najjar, Managing Partner of AlFikra, says Bakamo 'offers a level of insight and intelligence previously not readily accessible in the region', and adds: 'We are proud to work with Bakamo to elevate our profile and presence with our customers across the World'.

Web site: www.bakamosocial.com and www.alfikraco.com .