Bellwether Report Finds Slowdown in MR Budget Reduction
UK advertising budgets for market research fell during the first quarter of 2021, although the most recent IPA Bellwether report found that this latest result marks the 'softest reduction' since the final quarter of 2019.

<! pod><! pod>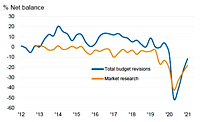 The report, authored by IHS Markit, is drawn from a survey of around 300 UK-based companies, providing regular quarterly information on trends in their marketing activities. During the first quarter, 17.8% of panellists reported a decline in market research ad budgets, compared with 25% during the fourth quarter of 2020.

Overall, the proportion of firms to see MR ad budgets rise in the first quarter was down to 8.2%, from 11.4% at the end of last year. However, 26% of those interviewed said that they had experienced a decrease in budgets; reduced from 36.4% in the previous survey period. Looking forward, the survey's respondents said they expect a further decline in these budgets for the 2021/2022 financial year, with a net balance of -4.9% anticipating a reduction in available spending.

While the latest report showed a further decline in overall UK marketing budgets - because of coronavirus lockdown restrictions and businesses looked to reduce costs - the downward trend softened for the third quarter in a row, which the report's authors describe as a sign that business conditions were beginning to stabilise after a year of turmoil. Mark Inskip, CEO UK and Ireland of Kantar's Media division, commented: 'It's been a tough year for businesses but there are spring shoots of hope coming through. While Covid-19 has hit some British households' finances hard, others have managed to save during the pandemic and people will be looking forward to doing the things they love again as restrictions ease. Understanding what they will prioritise first will be vital for brands to capture a slice of that spend and to hitting the right note with their advertising.'

Web sites: www.ipa.co.uk and www.markit.com .