WarnerMedia Names 'Alternative' Measurement Partners
Media and entertainment company WarnerMedia has selected Comscore, iSpot and VideoAmp as measurement partners, tasked with building a new suite of technologies to count viewers across linear, digital and connected television.

<! pod><! pod>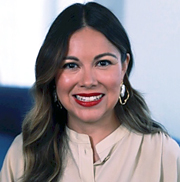 WarnerMedia creates and distributes news and entertainment content to global audiences through consumer brands such as HBO, Cartoon Network, Turner Classic Movies and others. In November, Andrea Zapata (pictured), WarnerMedia Ad Sales Head of Research, Data and Insights, said in an interview with Variety Magazine that the business had decided to take this route to find a 'better alternative', in response to advertisers and media agencies demanding a tabulation of audiences with narrower characteristics than age or gender.

The group is now looking to adopt audience-based currencies for use in conjunction with traditional panel-based surveys. Through the initial 'test-and-learn' phase with Comscore, iSpot.tv and VideoAmp, WarnerMedia says it will provide participating advertisers with 'greater visibility' into the return on ad spend and implement an audience-based approach to inform media planning and buying for advertisers. Beyond reach and frequency, the group will also be using attention metrics and outcomes-based solutions in 2022.

Zapata adds: 'WarnerMedia is committing to a consultative, tailored, audience-based approach to provide advertisers with full campaign evaluation. We are building the world's most effective video advertising service and we are excited to test alternative measurement solutions to better inform media planning and buying, and ensure the full impact of an advertiser's investment is captured'.

Web sites: www.warnermedia.com , www.comscore.com , www.ispot.tv and www.videoamp.com .