Hitwise and Kantar Pool Data
Online competitive intelligence provider Hitwise has partnered with Kantar Media to enable marketers to combine data on their audiences' opinions and attitudes with their search and web site visiting behaviour.

<! pod><! pod>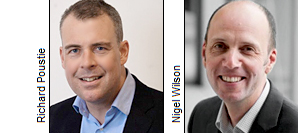 Kantar Media's TGI (Target Group Index) consumer insight tool provides intelligence related to all types of product and lifestyle choice, while Hitwise monitors a panel of three million consumers. Through the integration of TGI consumer audiences into Hitwise, the firms say clients will be able to focus their analysis on recognisable, real-world audiences and client personas, bridging the gap between online and off-line consumer data at massive scale. For example, travel companies might use the data to create segments of those travellers who 'try to go somewhere different on holiday' and search for 'boutique hotels', compared with those who 'like to return to familiar places' and search for 'all-inclusive deals'.

Richard Poustie, CEO of Kantar Media UK & Ireland, says the deal expands the reach of consumer insights and behaviour measured by TGI. Hitwise MD Nigel Wilson adds: 'The integration of TGI's rich survey data along with the existing strength of Hitwise's online insight is a game changer for brands. This marriage of online and offline data empowers our customers to understand audiences on a deeper level and engage with them in more meaningful and contextually relevant ways'.

Web sites: www.hitwise.com and www.kantarmedia.com .