Vincent Bolloré Passes Havas Chair to His Son
Vincent Bollore, Chairman of marketing services holding group Havas, has resigned and passed the reins to his son Yannick.

<! pod><! pod>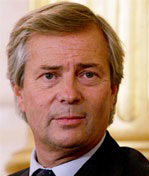 Havas made the announcement - which is in line with a succession plan announced earlier in 2013 - as it announced first half results today. Revenue rose 1% to $1.1bn, an organic rise of just 0.5% which is behind most rivals for this period, but net income rose a healthier 3% to $74m and CEO David Jones said the 'slow start' to the year was for 'one-off reasons' and the business was now 'on a rebound'.

Yannick Bolloré said he was proud to step into the role, at a challenging time for the sector.

Havas has recently been investing in big data and other predictive analytics, buying pan-European firm ElisaDBI in May and MFG Labs the following month. It also owns stakes in research groups including British-held Creston Plc and RSMB; while Bolloré's own corporation owns 14% of Harris Interactive, 5% of Vivendi and still 6.4% of Aegis Group. It's for his attempts to gain influence over the latter however that he has featured in DRNO in the past, with battles to get his nominees on the board.

A full list of Bolloré's holdings can be found at www.bollore.com/en-us/activities/portfolio-of-shareholdings .