Bolloré Pursues Majority Stake in Havas
French tycoon Vincent Bolloré is aiming to use a share exchange offer to increase his stake in advertising group Havas to more than 50 percent.

<! pod><! pod>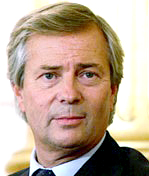 Shares in Havas and in Bolloré's own eponymous industrial holding company were suspended on the Paris bourse this afternoon pending a company statement. French paper Le Monde was the first to report the offer was imminent.

The deal offers minority shareholders 9 Bolloré Group shares for every 5 Havas shares they hold, according to an email sent today: this represents a 19.5% premium to Havas' current price and values the company at EUR 2.8bn. The move would give Vincent Bolloré (pictured) more control over the future direction of Havas, and some analysts suggest the eventual aim may be to sell it - in a sector not unfamiliar with proposed mega-mergers. According to a statement issued by Havas its Chairman, Vincent's son Yannick Bolloré believes his father's group '..By strengthening its capital position through this public offer... underlines its will to pursue its long-term commitment to Havas.'

At present the Bolloré group, which also has interests in banking, shipping and electric cars, owns some 36.9% of Havas, which is headed up by Yannick. Havas has big data and predictive analytics investments in ElisaDBI and MFG Labs, and shares in research groups including Creston Plc and RSMB. Bolloré's own corporation holds 13% of Harris Interactive, 5% of Vivendi and still 6.4% of Aegis Group, now joined with Dentsu but with whose management Vincent fought a long battle between 2005 and 2008 with the aim of getting seats on the Board.

Web sites: www.bollore.com/en-us and www.havas.com .