DATA VIZ FEATURE: A Dream Team to Fight Budget Cuts?
Great visuals and wide-ranging automation are a powerful combination for market researchers looking to justify budgets in the Covid era, says Confirmit Chief Product Officer Torbjörn (Tobi) Andersson. This is the first article from our forthcoming MrWeb 21 Years 'Data Visualization' special issue.

<! pod><! pod>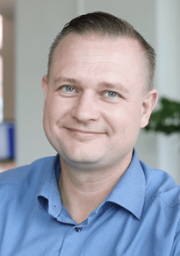 Covid-19 - do you remember when you first heard that term? Few anticipated the tremendous impact it would have when it first entered our news streams. Yet here we are, still coming to terms with the human cost and long-term changes to society - and now facing a global economic recession.

While these situations force us to make awfully tough decisions, with disruption comes change. And change is an opportunity. An opportunity to improve and do better.

Those who've been in the Market Research industry long enough didn't see the budget cuts as a surprise. Just over a decade ago, we faced similar circumstances, though for very different reasons. ESOMAR's study of insights professionals found that up to 92% of respondents expect either a slight or big negative disruption in turnover. Similar results were reported by the Insights Association, with three-quarters of study participants reporting that revenue has 'decreased somewhat' or 'decreased a lot'.

How can we reduce budget cuts? One way is to prove the value and ROI of investing in insights.


Data, but make it valuable

Most will agree that lack of data isn't the issue. In some cases at the moment, we're seeing response rates go up. In most cases the challenge is that there's too much data and to add to that, it's not in the right formats. Many also have trouble integrating it and delivering it in a way that's engaging and drives smart decision-making.

With data-driven decision-making now a fundamental requirement for successful business strategies, client demands are becoming ever more complex and the volume of data we gather grows ever larger.

It is also increasingly evident that relevant data must be available to all stakeholders in a company - not just the C-suite and senior management. Properly presented data empowers smart decisions, faster across an entire company. This is particularly true in times of remote work.

But not everyone has the skills or the time to hone in on data and get to the key drivers that will lead to smart decision-making. This is where the power of data visualisation and reporting technologies such as interactive dashboards come in. They tell the story with data and make it incredibly easy to navigate the oceans of data decision-makers are faced with.


A visual speaks a thousand words

Few market researchers need to be convinced of the power of the chart. Visualising data using charts, icons, colours, has made data easier to understand. Not to mention far more interesting than a table of numbers. Whether you're a seasoned data scientist, or your average Joe, seeing the data makes it easier to spot patterns and outliers.

But good data visualisation isn't slapping a few charts together and calling it insight. It's digging through to find the meaning in data, identifying the key information stakeholders need to make actionable, data-driven decisions.

The great advantage of data visualisation is not just that it helps everyone understand data, but also in how fast we can do that. Faster delivery results in more time for analysis - which means the opportunity to drive business value. Speed is also important on the competitive playing field - it can present a true advantage to be equipped to make an informed follow-up faster than your competitors.


Evolving the Market Researcher's role with automation

Long behind us are the days when a market researcher's job was to collect data and simply deliver it to clients for them to interpret on their own. The expectations are far higher - with delivery of real insights becoming the standard. But not all insights are created equal. Some are more valuable, some less.

There is often a strong correlation between the quality of insights and time available for analysis (up to a certain point, of course). Yet so many analysts are caught up completing tedious data collection and analysis tasks that eat up their precious time. Data visualisation isn't our only ally in time savings - automation is critical, too.

Automation tools allow researchers to become insight experts: automating repetitive tasks enables them to focus on the in-depth analytical processes that continue to require human interpretation.

One of the key benefits of automation: the increased need for skilled people - and we're already seeing that research roles are evolving to fit new ways of working.

Automation is increasing the requirement for broadly-skilled project managers, for example, where in-depth subject knowledge is no longer required, but an understanding of the many automated steps of the research process is critical.

There's also growing evidence to suggest that automation improves inter-departmental working and collaboration, both across survey teams and with external partners and customers.

But technology is an enabler. An opportunity for human roles to evolve. Embracing tools to do some of our deeper learning means that we're able to elevate our own work to deliver better, more accurate guidance and decision-making.


Visualisation + Automation: The Dream Team

It is clear that visualisation and automation empower teams to deliver more value. The question is, how can these two forces work closer together? Our industry is constantly building on its past technologies, increasing value by getting even deeper insights, even faster. That is the challenge that lies before us at the moment.

What is certain is that as market researchers, we must continue to empower clients to get the most out of their data. An increase in data-driven decisions, is an increase in MR's value.

Now presents an opportunity for all of us to reassess our current business processes and improve them. Welcoming digital transformation is the way, as it will help us to reduce costs and increase value.


Torbjörn 'Tobi' Anderssen worked as VP of Hermelin Nordic Research before co-founding data viz specialist Dapresy in 1999. He recently joined Confirmit, with which Dapresy is merging, in the role of Chief Product Officer.


Other 21 YEARS / Data Visualization content now available (read and download the full supplement here):


All Change at Toluna - Paul Twite, Toluna's MD EMEA and LatAm, looking at the company's recent big announcements - rebranding and the launch of Toluna Start.

E-Tabs Guide to Good Data Viz - Six key considerations for creating clear and engaging visuals, from the team at E-Tabs.

Tip of the Iceberg Ipsos.Digital CEO Andrei Postoaca backs AI to unlock its full potential behind the scenes within ten years, allowing business needs to return to centre stage.

Faster, Better, More - Debbie Senior, Toluna's VP Product Automation, looks at the 'need for speed', and other factors driving changes in the way we process, share and display data.

21 Years Feature: Medallia LivingLens CEO Carl Wong - Continuing our focus on Data Visualization, the LivingLens co-founder talks in-depth with MrWeb's Nick Thomas.

Beauty, Clarity or Both? - Joe Parker, Brand Director of London-based Motif puts an insight professional's spin on one of the longest-running debates in design.

MrWeb 21 Years Feature: Board Builder - Medallia's Senior Director of Product Management Vache Moroyan and his team are tasked with building dashboards that are a pleasure for research professionals to work with.

Didier Truchot on Finding Clarity in 2020 - Ipsos co-founder & CEO Didier Truchot talks about clients' need for clarity, AI's potential to change our industry, and why insight professionals should be confident about the future.

MrWeb 21 Years Feature: Data Viz and DIY Research - Ipsos.Digital CEO Andrei Postoaca talks about the challenges involved in developing a DIY research platform for one of the world's biggest and best known insight groups.