MrWeb 21 Years Feature: Tip of the Iceberg
Kicking off a week and a half of articles from our forthcoming Data Visualization special issue, Ipsos.Digital CEO Andrei Postoaca backs AI to unlock its full potential behind the scenes within ten years, allowing business needs to return to centre stage.

<! pod><! pod>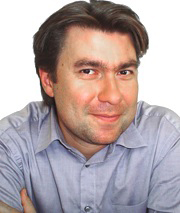 It's 2030 and Artificial Intelligence has been whole-heartedly embraced by the market research industry. The power it unleashes when it comes to automating repetitive, monotonous tasks has resulted in major cost and time efficiencies, and boosted reporting accuracy. Its strengths are undisputed, and its adoption as the enfant chéri of the industry has raised the bar in market research like no other technology before it.


How did we get here, and now what?

The correlations that AI identifies when shallow and deep diving data, regardless of sample and questionnaire size, are seismic both for businesses and the market research industry at large. Exploiting AI to automate report generation, based on robust statistical analysis of swathes of data, and presented with quality visualization tools, is game-changing: but at Ipsos.Digital we believe it's just the tip of the iceberg.

Ipsos already uses machine learning and deep learning to understand fraudulent and unengaged respondent behavior in 100+ million interactions every year. In 2018 we invested in Synthesio, a social listening platform that harnesses the power of AI to deliver qual and quant insights based on the billions of social media posts it monitors from more than one million sources daily. Recently we launched Question Library, which harnesses the power of AI to offer users optimal phrasing for their questions, based on their subject of interest and market, as well as inspiration for follow-on questions. The results are fast, smart questionnaire builds, and richer, more meaningful results.

Investing heavily in AI is becoming a norm in the industry, as can be seen in both news and views elsewhere in this publication. Let's go back to our earlier question - and now what? We've exploited the potential of a number of those iceberg tips: now it's time to explore.

We'll start with the challenge of how to use NLP for automatic coding and relevant probing in questionnaires, based on what the respondent has said in previous questions. The landscape offers us numerous cases and multiple layers of repetition. Many of the studies run today are twins of earlier ones by the same company or their competitors. Market researchers are spending hours and hours copying data across from one source to another.

What if we better exploited AI to cut out all this tedium and its accompanying opportunity for human error and bias?

What if, in addition, we developed AI to see correlations that were invisible to the naked eye? What if it could flag up findings buried so deep in the data of our project and even across multiple projects, that we hadn't even thought of them yet?

What if an AI engine could compare datasets no matter how the data were stored, and regardless of the language in which questions of similar meaning were expressed? What if that engine was so powerful it could create its own benchmark data on the fly by aggregating and weighting data from multiple sources? Imagine the efficiencies afforded by an AI engine that could deliver insights based on all of the above in real-time.

While the industry currently only exploits 20% of the data returned by research projects, just think how much more powerful our reporting would become if AI explored the remaining 80%?

At the same time, we're broadening our focus to bring the wider landscape into view. We're not just asking ourselves: But now what? We're also asking ourselves: Why?

Behind all the buzz created by major advances in AI technology, have we as an industry lost sight of what really matters? Perhaps, somewhere along the way, the client's needs have been pushed out to the sidelines.


Five Whys, Three Headlines

Most of us are familiar with Toyota's Five Whys. The technique of repeating Why? five times about a given problem takes you question by question closer to its root, and therefore its logical solution. AI could potentially apply this and create algorithms based on the Five Whys technique. The end result would be the delivery of three top-line recommendations for concrete business actions following project completion.

The report could detail the five valid and well-documented Whys, preferably with measurable consequences should a business ignore any one of the recommended actions. It could also detail the statistical reasoning behind each recommended action. Of course, the curious would be able to deep dive the data to verify these conclusions and indeed to play around with the data looking for further insights.

The value of headlining reports with three concrete actions cannot be underestimated. Reliable, quality real-time reporting is already a reality at Ipsos.Digital, but imagine a world where the logical business recommendations and insights it affords were automatically generated. Imagine the time-savings and agility involved in decision-making by key stakeholders in this case...

While giving the client a dashboard where they can cut and slice the data is important, we believe that the ultimate challenge now is not necessarily to give the client more data, or to show them even more ways to slice and dice it. The challenge in fact lies in offering the client less volume but greater precision, headlined by our three concrete business action recommendations. In this context, less really is more.

We know the marketplace is changing at dizzying speeds, and that businesses need increasingly to react to emerging changes in real time. We think that headlining reports with a three-pronged plan for impactful, lasting change based on, and verifiable by, quality reporting is a natural consequence of this. The big question is what is required for an AI engine to start writing full and in-depth reports of this nature automatically to make the vision a reality.

One useful pointer is political research. Ipsos uses this as a way not only to understand the political sentiment in the 15-20 countries in which we predict election results every year, but also to better calibrate all our sample definitions and weighting in order to perform at our best in the context of commercial studies. Election studies represent the only time a research project can truly be validated and where there is no doubt as for what was right and what was wrong.


Using Mobile for Real-Time Collaboration

We believe in extending the capabilities and advantages that AI brings to researchers and clients at all touch points.

One part of this process was to take the mobile conversation full circle to make sure that the researcher hears the data, wherever they are and whatever time of day it's delivered, offering fast answers to crucial business questions on the go and at a glance on the mobile phone.

Let's explore that toolkit. Your need to access meaningful, user-friendly, customisable data quickly and in total confidence has driven the creation of end-to-end, mobile-first DIY research platforms, allowing the client and the researcher to jump in and out of a project and do micro steps as they see needed. Ipsos.Digital's FastFacts solution empowers researchers and clients at every stage of their study to use the device of their choice for maximal convenience: they define the parameters, set up their questionnaires, confirm payment details and launch quickly, in three easy steps. All of this has been developed to render perfectly on your smartphone screen as well as on your tablet and desktop.

Visualization and changes on the fly to the survey and acceptance of wordings are hugely improved if they are mobile friendly. Bringing the mobile conversation full circle, researchers and clients can view the top-line results on their mobile phones only hours after survey launch. Respondents benefit from the simplicity, ease of use and comfort of taking surveys on their phones. Now it's clients' turn to reap the benefits of a mobile first approach on the results.

Typically, our clients view the headlines on their phone while they're busy doing other things during or outside work hours, participating on a conference call, running an errand or socialising. They use a window of a few minutes' availability to shallow-dive the data, giving them time to think about reasons and consequences, and build scenarios to be further investigated at the next stage.

It's when they get back to their desktops later that clients review the data in depth, probing results findings down to respondent-level detail, testing new variables and cross tabulations, and investigating unexpected correlations. This is the moment when business insights are born, tested and then retested.

The all-singing, all-dancing new technologies are the enablers, but what should be taking center stage is the business insight that they unveil. Clients need to be able to count on the reliability and quality of the reporting, of course, but when you strip away all the details and get back to basics, what businesses are really looking for, what they really need, are actionable business insights.

What if we saw beyond embracing AI for the purposes of robust reporting solutions, impressive visualization tools, and smart, quick questionnaire creation?

No one can predict the future or say with any certainty what the new face of market research will look like. But one thing is certain: continuing to invest heavily in AI and new technologies will raise the bar. With our clients' evolving business front of mind, as ever, we will explore the full potential of this iceberg... and what lies beneath.

Andrei Postoaca


Other 21 YEARS / Data Visualization content now available (read and download the full supplement here):


A Dream Team to Fight Budget Cuts? - Great visuals and wide-ranging automation are a powerful combination for market researchers looking to justify budgets in the Covid era, says Confirmit Chief Product Officer Torbjörn (Tobi) Andersson.

All Change at Toluna - Paul Twite, Toluna's MD EMEA and LatAm, looking at the company's recent big announcements - rebranding and the launch of Toluna Start.

E-Tabs Guide to Good Data Viz - Six key considerations for creating clear and engaging visuals, from the team at E-Tabs.

Faster, Better, More - Debbie Senior, Toluna's VP Product Automation, looks at the 'need for speed', and other factors driving changes in the way we process, share and display data.

21 Years Feature: Medallia LivingLens CEO Carl Wong - Continuing our focus on Data Visualization, the LivingLens co-founder talks in-depth with MrWeb's Nick Thomas.

Beauty, Clarity or Both? - Joe Parker, Brand Director of London-based Motif puts an insight professional's spin on one of the longest-running debates in design.

MrWeb 21 Years Feature: Board Builder - Medallia's Senior Director of Product Management Vache Moroyan and his team are tasked with building dashboards that are a pleasure for research professionals to work with.

Didier Truchot on Finding Clarity in 2020 - Ipsos co-founder & CEO Didier Truchot talks about clients' need for clarity, AI's potential to change our industry, and why insight professionals should be confident about the future.

MrWeb 21 Years Feature: Data Viz and DIY Research - Ipsos.Digital CEO Andrei Postoaca talks about the challenges involved in developing a DIY research platform for one of the world's biggest and best known insight groups.