MrWeb 21 Years Feature: Data Viz and DIY Research
From the Data Visualization special issue published last week: Ipsos.Digital CEO Andrei Postoaca talks about the challenges involved in developing a DIY research platform for one of the world's biggest and best known insight groups.

<! pod><! pod>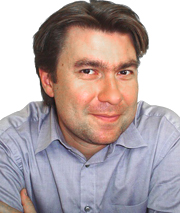 Andrei Postoaca, CEO of Ipsos Digital, is one of the pioneers in online research and built the global Ipsos online capability. Author of The Anonymous Elect, one of the few books on online panels, and continuously seeking to re-invent the research industry, Andrei is in charge of building the DIY business of Ipsos and understanding how digitalization and AI will transform the group.


Setting Out

Although only formally launched about a year ago), our self-service research platform Ipsos.Digital has been in development for more than two years, giving us time to build a platform from the ground up, but also acquire a number of great companies whose solutions complement what we're doing. Two of these, Askia and Data Liberation, are focused in their different ways on data visualization and there's more about them below, but there's a data viz aspect to every part of our work.

From the start, we had a very clear strategy of what we wanted to build. Didier Truchot has talked about some of the global changes driving the demand for better visuals, most notably the sheer proliferation of data - and clarity is definitely one of the key challenges in their design. On the pages of the Data Viz supplement you'll find plenty of views and examples to illustrate the balance that must be struck between simplicity, intuitive interface, powerful features for advanced users, integration with other packages, and sheer impact / 'beauty'. In an ideal world, all visuals would measure up in all these respects, but there's also a good argument for the 'horses for courses' approach - different priorities in visual for different clients / users, and for different stages of projects.

One of my own unit's key targets is to make applications so intuitive that you don't need training but can feel comfortable step by step. At the end of the day, any software that requires a lot of training is not very good software. Obviously that's a target you never really reach: there will always be the necessity of some training and hand-holding, not necessary because the application is not intuitive enough, but because people feel more comfortable if hand-held initially. One important KPI is the time spent on the first interaction with a client on the new platform; and another is 'How Many times do I need to interact with that client?' If they want to run a second study on the platform, a similar study, do they still need help, or are they now comfortable with the platform? We're seeing that on the 2nd and 3rd project they are almost not asking anything any more - a good result, but we then work on the initial flow to make it even simpler.


Buying In

Two very good acquisitions have helped us speed up the development of Ipsos.Digital and brought great technology. We bought UK-based Data Liberation about a year ago to speed up the reporting parts of our solution: they have a nice way of getting a dashboard out directly after fieldwork is done, a dashboard, cross-tab and native PowerPoint tool - very neat, and we've integrated this as the reporting part of the DIY platform.

While building that in, we also started discussions with Askia, who were looking to grow and to become the builders of the industry standard software. We loved the idea and we know there is a necessity for it, so we started a collaboration, bought a majority stake and committed to invest further. The guts of the questionnaire creation element of our platform are basically theirs: your survey is created in Askia and you have script writers going in able to do much more complexity on the questionnaire than you would be able to do yourself, or would be really willing to learn how to do yourself. This gives us a balance between having an intuitive DIY that will not require any training and still having the ability to build complex questionnaires when needed.


Holding Hands

With DIY research, some worry that 'clients will do too much for themselves and get wrong answers'. While this may happen in some cases, it's not really an argument against developing good DIY research tools: if you accept that there are many different types of client, from former [supply-side] researchers or very hands-on in-house specialists, who know an enormous amount about the process, to clients who are doing their first research project, so we can't really speak about 'the client' as a homogenous group of people. The more experienced will be very competent users of DIY - they'll even have the confidence in how to script a questionnaire - they alone justify the tools. But there are also clients who don't know as much and need all the help they can get: in either case, we should assume that clients know what they want, what they can do for themselves and what they can't. So of course there is a risk when you start using a DIY tool uncontrolled - that's why we are there from the word Go, as required, to hand-hold, and before that even to assess whether the tool answers the research need. We can and do pick up the 'phone to discuss the work and to make sure the clients feel comfortable.


Critical Eyes

Performance here comes back to intuitive design, and specialist designers have a lot to say, but they must work with developers and with the researchers building and testing the product. There are some good fights between these groups - something with which most people who have worked on complex design projects will know. At the end of the day - or one might say at the end of each day, as there's a lot of back and forth here - it's the user testing that tells us whether we've probably got it right, or in some cases definitely got it wrong.

Yes, graphic designers have an extremely important role in this process. I wouldn't say we employ a lot of them, but those we have are longstanding employees and contacts, who understand the flows.

One of the reasons the publication is appearing now is that data viz technology is booming; but another is that expectations are rising rapidly too. Nowadays when we build professional tools our clients are comparing us with all the classic consumer tools, including mobile apps - Facebook, Uber and so on - so they need to be as smooth, as intuitive, as simple as the best consumer-facing apps on the market, and that's not an easy challenge. When I look at some of the applications that are available in our industry, they are not really there yet, to put it mildly, but that's changing and we are playing our part.

There's an additional challenge of course for b2b software: it may have to look and feel like consumer apps on the surface, but many business users will want to get under the hood a bit and will expect to find some more specialised tools there. If a client wants to dig deeper, do more complex analysis or even build a more complex questionnaire, one of the jobs of the designer is to tuck the layers of complexity away behind a simple interface and let them bring features in as required (see the supplement, Medallia and Highlight articles in particular). In these cases they are likely to be happier with the idea of some training, but even where there are these more complex requirements, we still have to make the interface as intuitive as possible. I don't think we have the luxury of saying to the client, 'You are a B2B client so you can expect it to be more cumbersome than your average consumer app'.


Training the People... and the Software

As Didier has said, we see the abundance of talent available today in all parts of the world as a huge benefit and resource for the future of our business - and from this you can correctly infer that we don't expect their roles to be replaced by AI any time soon. But, as he has also indicated, we do see AI as perhaps the most exciting tech development impacting the industry over the next ten years. Let's take those two strands one at a time.

In skills and goals terms, Ipsos.Digital is primarily a software development unit. Within Ipsos, we already have some of the world's best researchers, and a very strong operations organisation in IIS (Ipsos Interactive Services) - and we're not trying to replicate the same setup in Digital - we're about software. However Ipsos' people need to be trained up to feel comfortable with the movement to DIY, to do the handholding I've talked about above. This is a substantial part of our work at the moment: the research skills are there, but the change of emphasis requires training, and Ipsos staff have to know the software very well rather than relying on intuition.

So briefly to AI. I've talked a lot more about its potential in my 'Iceberg' article, but I can't stress too much the impact this is going to have on the work we do between now and 2030. One thing it will add sooner rather than later is to work as a kind of helper for researchers during the analysis stages, making sure they've really taken into account all the potential correlations in the data, and that they have explained their decisions using all the relevant facts that are in the data. Wherever researchers are concerned with deep learning of the data, AI can be strong in support. We've also employed machine learning techniques and NLP in our development of the Question Library about which my colleague Ana Maria has written below; and when it comes to product or concept testing, I expect AI to help us spot what is different within an image, within a commercial - not only what a respondent has said, but finding its own correlations in images used in the research. Today you can analyse a commercial and find specific elements, such as the gender of the people in the ad, or particular scenery, and based on this information and cross-referencing thousands of ads and the results of them, you can say that the usage of a beach in an ad about beer has a stronger correlation with a certain brand or a higher purchase intent than using a mountain. Hugely impressive and useful, but there's a lot more to come.

If you listen to my podcast interview - as well as hearing about my journey from Romania to France via Sweden and a lot more that's not in this article, you'll hear Nick ask me at one point if the atmosphere in Ipsos.Digital is geeky, and I'm able to say hand on heart that it's not, it's entrepreneurial. In a way, all our industry's work is about data visualization - giving clients a clear picture of what they need to know - and what we're building here is helping to push the boundaries of the profession.

Andrei Postoaca


Other 21 YEARS / Data Visualization content now available (read and download the full supplement here):


A Dream Team to Fight Budget Cuts? - Great visuals and wide-ranging automation are a powerful combination for market researchers looking to justify budgets in the Covid era, says Confirmit Chief Product Officer Torbjörn (Tobi) Andersson.

All Change at Toluna - Paul Twite, Toluna's MD EMEA and LatAm, looking at the company's recent big announcements - rebranding and the launch of Toluna Start.

E-Tabs Guide to Good Data Viz - Six key considerations for creating clear and engaging visuals, from the team at E-Tabs.

Tip of the Iceberg Ipsos.Digital CEO Andrei Postoaca backs AI to unlock its full potential behind the scenes within ten years, allowing business needs to return to centre stage.

Faster, Better, More - Debbie Senior, Toluna's VP Product Automation, looks at the 'need for speed', and other factors driving changes in the way we process, share and display data.

21 Years Feature: Medallia LivingLens CEO Carl Wong - Continuing our focus on Data Visualization, the LivingLens co-founder talks in-depth with MrWeb's Nick Thomas.

Beauty, Clarity or Both? - Joe Parker, Brand Director of London-based Motif puts an insight professional's spin on one of the longest-running debates in design.

MrWeb 21 Years Feature: Board Builder - Medallia's Senior Director of Product Management Vache Moroyan and his team are tasked with building dashboards that are a pleasure for research professionals to work with.

Didier Truchot on Finding Clarity in 2020 - Ipsos co-founder & CEO Didier Truchot talks about clients' need for clarity, AI's potential to change our industry, and why insight professionals should be confident about the future.