Sorrell's S4 Secures Loans for Future Acquisitions
Sir Martin Sorrell's digital advertising and marketing services investment vehicle S4Capital has secured new loan and debt facilities, to refinance existing borrowing and for future acquisitions.

<! pod><! pod>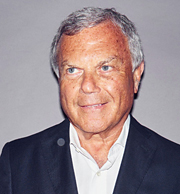 Sorrell (pictured) set up S4Capital in 2018, just after quitting WPP, and quickly acquired digital production company MediaMonks and MightyHive, a company providing consulting and media operation services. Since then, the group has acquired a raft of companies across the digital performance and analytics and measurement arenas. These buys have included data science company ConversionWorks and Datalicious Korea, which is a Google Analytics premium reseller; and data and analytics consultancy Digodat.

S4Capital has now agreed a seven-year EUR 375m (£321m) loan with Credit Suisse, HSBC and Barclays, along with a five-year revolving credit facility, which could allow S4Capital to borrow up to £100m from Credit Suisse, HSBC, Barclays, JP Morgan and BNP Paribas. The funds will be used to refinance existing borrowing facilities valued at £109m, while providing a further £200m which the group plans to use to finance further acquisitions across technology services, while adding to its content, data and digital media businesses in the Americas and Asia-Pacific.

According to the group, since its last trading update for the first four months of the year, activity has continued at 'unprecedented levels' in May and June, which it says has been driven by the post-pandemic rebound in global GDP and the acceleration in digital marketing transformation.

The group, which now has around 5,500 people in 31 countries across the Americas, Europe, the Middle East and Africa and Asia-Pacific and a current market capitalisation of approximately £3.6 billion, is online at: www.s4capital.com .