GfK Expands gfknewron Predictive Intelligence Suite
GfK has expanded its gfknewron platform with the addition of market, consumer and brand data, along with predictive analytics.

<! pod><! pod>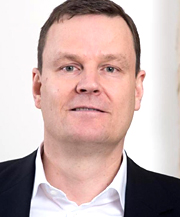 The gfknewron platform, which previously just connected sales and consumer data across clients' global product portfolio, now offers three modules:
'Market', which uses transaction data to help clients measure the performance of their product portfolio against benchmarks and develop go-to-market strategies, identify market changes and growth potential
'Consumer', which helps to analyse target groups by answering who buys which products via what channels, and which other brands are attractive for a target group; and
'Predict', which helps companies simulate market scenarios and forecast their impact on their business.
Users of the expanded platform can see an overview of their business performance with data from a single source, and align products with customers' needs to evaluate future market potential. Scenario simulations help to identify challenges at an early stage, and AI-supported forecasts help users to make informed decisions to stay ahead of competition.

CEO Peter Feld (pictured) comments: 'We know that to win in today's intensely pressurized and fast-moving business environment, our clients need more than pure data - they need us to provide guidance and market predictions rooted in that data. The gfknewron platform has been designed to provide all that information on one intuitive platform that harnesses the power of artificial intelligence'.

Web site: www.gfk.com .