MindMover Takes Name of its Platform, QuMind
UK-based insights company MindMover Group has changed its name to QuMind, already the name of its fast-growing self-serve MR platform.

<! pod><! pod>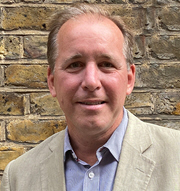 The company - launched 22 years ago this week and originally known as Tpoll - says the unified brand 'serves to better reflect its mission: 'the art of customer closeness'. This includes allowing every piece of qual and quant research to be handled in one place, alongside dashboarding, reporting & sharing, and access to 140m consumers worldwide through a global panel network. An experienced team of in-house research professionals promises 'to support customers every step of the way'.

CEO Mark Ursell (pictured) comments: 'Post-pandemic recovery is a really exciting time for businesses. We have all learned over these last two years that being close to your customers and prospects all the time is crucial to understanding and adapting to changing needs and building customer loyalty. Until now, finding the perfect way to gain and process data insights has been a logistical nightmare for insight and research teams who have had to juggle multiple platforms and manage a host of agency relationships simultaneously. We aim to ease this pain and combine everything in one place so clients can easily access data to adapt to customer insights and focus on growing a successful business'.

Web site: www.qumind.co.uk .