ENGINE Becomes 'Big Village' in US, Europe and Aus
AdTech and data company ENGINE has been re-named Big Village in the US, continental Europe and Australia. The rebrand does not include ENGINE Group UK, which was acquired by Next 15 earlier this year.

<! pod><! pod>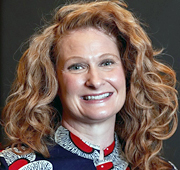 Big Village is led by Global CEO Kasha Cacy (pictured) and comprises 450 employees globally. Its services include a market and social media research business with a focus on understanding customer and employee behavior; and a digital transformation practice, which will use human-centered design principles, engineering and development capabilities to drive social media and business impact. In addition, the company offers access to Cassandra by Big Village, which offers access to Millennial, Gen Z and Gen Alpha research, to analyze emerging trends, generational insights, and youth behavior.

The group also has a programmatic tech division, EMX by Big Village; and media specialists bringing together attitudinal consumer insights, audience target, media activation and measurement. While the rebrand does not include ENGINE Group UK, the proprietary end-to-end programmatic EMX (ENGINE Media Exchange) does have employees working in the UK.

Cacy comments: 'When we take a look at what marketing organisations are dealing with today, it's become so complex; campaigns can no longer exist in silos. We are on a mission to rise to the challenge and solve the problems others have not been able to: providing true transparency in the programmatic marketplace, scaling niche audiences that are not neatly defined by behavioral data, and deeply integrating data and insights into the creative and media processes, to name a few'.

Web site: www.big-village.com .