Heart+Mind Launches Four New Practices
Washington, DC-based research-led consulting firm Heart+Mind Strategies has launched three industry-specific practices - Travel and Tourism, Public Policy and Issues, and Healthcare - as well as a Brand and Communications Strategy practice that operates across all industries.

<! pod><! pod>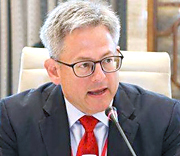 Launched in 2010 by former Wirthlin Worldwide leaders Dee Allsop, Michael Dabadie, Beth Strackbein Forbes, Jennifer Airey and Jim Hoskins, Heart+Mind uses a scientific approach to uncover how people think, feel and make decisions, and then helps clients apply these insights. Last month, the firm opened a MENA headquarters in the city of Riyadh, in the Kingdom of Saudi Arabia (KSA).

As part of the new practices launch, the company has hired Bruce Blakeman (pictured) to lead the Public Policy and Issues Practice. He has more than 25 years of leadership experience in both domestic and international markets, and previously served in the Bush Administration, the US Embassy in Beijing, and as a media guest contributor on political environment, trade, sustainability, economic development, and food security. Dabadie comments: 'We've known Bruce since our days driving change across the globe with Dick Wirthlin and he knows Heart+Mind. Bruce is a mover and shaker with the horsepower to grow our policy practice beyond the solid foundation we have built.'

In addition, Darren Bishop, who joined Heart+Mind in 2011, is now the Travel and Tourism Practice lead; and the Healthcare Practice is led by Shawn Wade, who has been with the firm for more than a decade, having previously been SVP at Harris Interactive and Market Strategies International, where he supervised research teams representing pharma clients. Finally, the Brand and Communications Strategy Practice is led by Carol Gstalder, who has been with Heart+Mind since 2018, and has 35 years of experience as an advisor. Before joining, she led teams and business units at Wirthlin Worldwide, Stagwell, Nielsen, and Harris Interactive.

Web site: www.heartandmindstrategies.com .