Alida Adds Video and Financial Services Products
CX and insights firm Alida has launched a video survey tool, a new financial services (FS) industry product, and twelve other new features to its CXM & Insights Platform.

<! pod><! pod>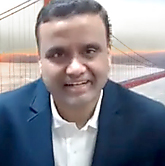 Previously known as Vision Critical, Alida offers a combined CXM (customer experience management) and insights platform through which to uncover insights and engage with customers. Newly launched 'Alida Video' captures customer-recorded video feedback, to inform stakeholders and decision-makers in a unified platform. Riaz Raihan (pictured), President of Products & Engineering, says the added value of video will help clients deeply understand and analyze their customers by hearing and seeing them talk directly.

The new FS industry solution provides curated survey templates that can be customized and deployed to collect feedback on financial products. It also enables CXM through multiple channels: digital, mobile, branch, and customer support. A built-in dashboard provides near real-time insights, enabling FS clients to make data-driven business decisions while improving the overall customer experience.

The update also includes enhancements to the flagship Sparq digital insights platform; Alida Surveys; the Hub Newsletter; Quotas for Administrators; Mobile Survey Image Enhancements; and Recodes and Rollups. In addition, new features have been launched for Touchpoint, including NPS via Quick Polls, which allows organizations to keep a pulse check on brand perception. The firm's Case Management solution now automatically creates cases on-platform for customer follow-up without relying on a third-party CRM; its Data Lake uses data from multiple organizational data sources in a common format, so all relevant customer data is available in one platform; Crosstab Analysis uncovers patterns and insights by slicing survey data by different groups, segments or respondents; and Configurable Dashboards has been updated to help administrators and stakeholders create and view dashboards for Alida Surveys that show the composition and related analytics of survey respondents.

Web site: www.alida.com .