AGENCY
SEARCH PAGE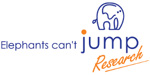 Get in touch with us...
Who to contact?
Bob Morrison
Address:
21 Little Portland Street
London W1W 8BT
Telephone:
0207 2918000
Fax:
Email:
ellie@elephantscantjump.com
Web:
http://www.elephantscantjump.com
Elephants Can't Jump
Elephants Can't Jump is a brand building agency dedicated to marketplace impact. So if you're tired of consigning countless 'consultancy' reports to your filing cabinet, we're just the agency for you.
Recent News:
DRNO
(Daily Research News Online)
LINKS AND FEATURES
Client List


Find out who we do it for.
View