Obituary: Louis Harris
December 23 2016
Harris Poll creator Louis Harris died of heart problems on Saturday, at his home in Key West, Florida. He was 95 years old.

<! pod><! pod>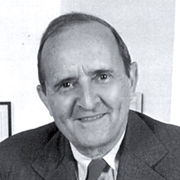 A native of New Haven, Connecticut, Harris graduated with a degree in economics from the University of North Carolina at Chapel Hill, before serving in the US Navy in the North Atlantic during World War II. Prior to leaving the military, pollster Elmo Roper asked Harris for advice about a survey on war veterans, and in 1947, Roper hired Harris as his assistant, writing newspaper columns and radio spots about politics.

He became a partner at Elmo Roper & Associates, but nine years after joining the firm, he left to start his New York City-based agency Louis Harris & Associates, which initially carried out market research for corporates, but then went on to focus on conducting polling for politicians. In 1958, he was commissioned to help with fellow wartime navy veteran John F. Kennedy's senate re-election campaign, and he later helped Kennedy run for president. He also worked on campaigns for hundreds of political candidates, both Republican and Democrat, and during this time he personally interviewed 3,000 people in their own homes, avoiding simple 'yes-or-no' questions, in favor of conversations that would last as long as 90 minutes.

By 1963, Harris gave up his political advocacy work to become the chief polling analyst for TV network CBS News, working with IBM to develop a computer-based 'Voter Profile Analysis' model to enable the broadcaster to understand voting patterns ahead of the election. He also wrote syndicated columns for The Washington Post, Newsweek, The Chicago Tribune-New York Daily News Syndicate, and Time magazine, later shifting his TV commentaries to ABC News.

Pollster Peter Hart, who started his career at Louis Harris & Associates described Harris as an innovator on many fronts, 'Lou was to political polling what Henry Ford was to the automobile industry', he stated.

Harris' original business was sold to investment firm Donaldson, Lufkin & Jenrette in 1969, then again to media giant Gannet in 1975, and he continued as CEO until he retired in 1992. Louis Harris & Associates was subsequently acquired by political polling company Gordon S Black Corporation in 1996, and the merged firm was rebranded as Harris Interactive. The company was acquired by Nielsen for around $116m in 2013, and its European arm was bought by Toluna's parent company ITWP the following year.

Harris was married to Florence Yard for 60 years, until her death in 2004. He is survived by their children Peter, Richard and Susan, and four grandchildren.


All articles 2006-20 written and edited by Mel Crowther and/or Nick Thomas unless otherwise stated.