WPP Launches Ogilvy Center for Behavioral Science
January 27 2017
WPP-owned marcoms network Ogilvy is setting up a Center for Behavioral Science, aiming to establish a new system for defining how audiences think, feel and behave; and to help clients improve their marketing and communications.

<! pod><! pod>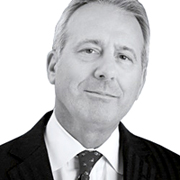 The center will work across the Ogilvy group with a focus on uncovering hidden cognitive and behavioral barriers, and finding the means to overcome them using a new approach called B4 (Brand, Brain, Behavior, and Bias) which combines Ogilvy's expertise in branding with new cognitive and behavioural insights. The center's remit includes tapping into historical research to help clients identify the levers most likely to shift behavior and change attitudes - this will involve a new navigation tool called AMOS, created by the team and named after behavioral economics psychologist Amos Tversky.

The Center will be led by its founder and President Christopher Graves (pictured), who previously served as Global CEO of Ogilvy Public Relations and co-founded the Institute for Public Relations' behavioral insights initiative. Graves will work with Carla Hendra, Global Chairman of strategic growth and innovation consultancy OgilvyRED, and the center will also partner with other types of behavior change specialists: Kantar to create new cognitive insights, and WPP Government to help with large-scale population behavior change programs. Once established, the center will appoint a Board of scientific advisors, and partner with and build on the work of the behavioral expert practice Ogilvy Change.

Commenting on the launch, Graves said: 'Recently we have all seen how traditional demographics research can fail spectacularly in predicting outcomes especially in a polarized, 'post-fact' environment. But behavioral scientists look beyond demographics and beyond what people say, to the inner workings of how people view the world and create their own identities. This drives big increases in effectiveness for everything from health and wellbeing, the environment, personal finance, social issues, politics, crisis management, employee engagement, and sales of products and services'.

Web site: www.ogilvy.com .