Three KKR Representatives Join GfK Board
April 10 2017
GfK has appointed three new members to its Supervisory Board: Thomas Ebeling, Johannes P. Huth and Philipp Freise, following its agreement with investment group KKR which is now its partner in running the global group. They replace Peter Goldschmidt, Aliza Knox and Bruno Piace.

<! pod><! pod>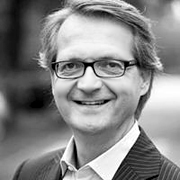 Ebeling is CEO of ProSiebenSat.1 Media SE, Huth Head of KKR's EMEA Operations and Freise Head of TMT for Europe at KKR & Co. L.P. The three took up their positions on Friday 7th April, replacing Goldschmidt, Knox and Piacenza resigned as of 31st March.

Ebeling joined ProSiebenSat.1 Media SE as CEO in 2009 and has led its development into 'one of the most successful independent European media companies', listed on the DAX for the past 12 months. Prior to joining, he worked at Novartis, as CEO of the global pharmaceuticals business for seven years and then from 2007 as CEO of the Consumer Health Division. He also sits on the Supervisory Board of Bayer AG. Huth has worked at KKR since 1999, is a former Chairman of the Supervisory Board of ProSiebenSat.1 and of WMF Group, Kion Group, and MTU Aero Engines. Freise joined KKR in 2001 and his roles have included leading the group's investments in Arago, Fotolia, Scout24 Switzerland and Trainline. He is Deputy Chairman of ProSiebenSat.1.

Knox, who joined the GfK Supervisory Board in April 2014, is Vice President Asia Pacific at Twitter and has more than 30 years of experience in various international management functions in firms including Google and Visa International. Piacenza, who joined a year ago, and is member of the Management Board and EVP Laundry & Home Care at consumer goods firm Henkel. Goldschmidt has served only four months on the board, after an extensive career in the pharmaceutical industry - he is currently President, Sandoz Inc., responsible for North American operations since 2013.

The move follows the KKR 'takeover offer' completed on March 13th and leaves intact the Board's previous mix of six shareholder and four employee representatives. Ralf Klein-Bölting (pictured), Chairman of the Supervisory Board of GfK SE, said the outgoing members 'offered to vacate their respective seats in an extraordinarily unselfish manner' and thanked them for 'their outstanding efforts, great engagement and competent support of GfK'. Klein-Bölting said the new members bring 'significant experience and exceptional competency', adding 'Their knowledge and capabilities will be instrumental in helping to successfully reposition GfK and realize future growth potential'.

Web site: www.gfk.com .