Upgrade and Partnerships for the World's MR Job Board
July 18 2017
Global MR groups The Research Club, Women In Research (WIRe) and MrWeb have teamed up to put the world's biggest listing of research job opportunities in front of a hugely expanded audience of potential candidates. The search is also in a new more mobile-friendly format.

<! pod><! pod>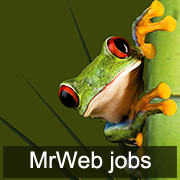 MrWeb has been running its job board since 1998, introducing the profession to the idea of online job search. Competitor sites followed a few years later, but the MrWeb index - apart from giving DRNO its early raison d'etre and funding - remains the largest and most international listing and is the only one to use independent coding of every ad to ensure candidates get sent jobs which are a good match for their selections. The site boasts around 50,000 regular users and well over 20,000 opt-in news and jobs email subscribers.

Jobseekers among WIRe and The Research Club's combined total of circa 20,000 constituents can now access the full database via searches on their own sites, while advertisers posting on any of the three sites will get their jobs in front of the enlarged pool of candidates. If you're already a regular MrWeb advertiser, you'll be routed to us - otherwise take your pick and support whichever organisation you like*, and ads will be seen by the same audience.

MrWeb's Nick Thomas says of the partnerships: 'The idea of getting the entire MR world - or as much of it as possible - looking at a global index of jobs carefully coded by researchers has always made a lot of sense to us, and our two new partners are a great way to move towards that. They're both well-known on multiple continents, both great successes and fast-growing, and both focused on networking and mutual support rather than being the official professional standards orgs / trade bodies. Not that we won't consider partnerships with the latter in the future - get in touch!'

Women In Research Managing Director Michelle Andre comments: 'A partnership with MrWeb just makes sense to help bolster our global reach and give our community access to a greater pool of MR jobs and job seekers. We look forward to our WIRe community taking advantage of this expanded opportunity'.

Tara Mackay, Global Events Manager at The Research Club, says: 'We are pleased to partner with MrWeb and offer our members across the globe the largest job finding solution within the industry. It's live right now, so if you are looking to fill a role or thinking of changing jobs please take a look online!'

Meanwhile the job search has been reformatted for better display and easier use on mobile 'phones and tablets, with the added option to scroll through qualifying jobs one by one without returning to search results. DRNO will get the same treatment next week (yes, bigger text!) and a complete relaunch of the MrWeb site with new directories and other features is due in the next few weeks.

Web sites: www.mrweb.com/jobs , www.womeninresearch.org and www.theresearchclub.com .



* payment for ads posted via WIRe or The Research Club will be shared 50/50 between MrWeb Ltd and the partner site. Ads cost the same whichever of the three sites they are posted through.


All articles 2006-20 written and edited by Mel Crowther and/or Nick Thomas.