Duo Launch Boutique MR Agency Sprylytics in Toronto
September 13 2017
In Canada, former Verve/Research Now exec Vlad Plouts and long-time Advantage director Mel Fernandes have launched a boutique market research services, analytics and data integration firm called Sprylytics in Toronto.

<! pod><! pod>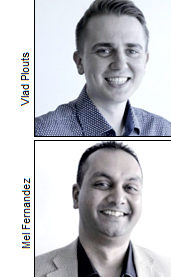 Plouts previously worked at online community specialist Verve as Community Team Lead, prior to which, he was a Senior Project Manager at digital data collection firm Research Now, and he held project management roles at B2B performance benchmarking agency Advantage. Fernandes and Plouts met at Advantage, where Fernandes worked for more than eleven years, most recently as Director of Information Services.

The pair say the aim of their new firm is to offer start-up/small/medium-sized clients an experience comparable with that of an internal research department. Working with an independent collective of what they describe as 'data curious nerds', Plouts and Fernandes help clients gain an understanding of their business and market, refocus their efforts, and launch products and services. In addition, their company helps clients dig deeper into their data, combining primary and secondary data to support informed decision-making. Specialisms include connecting survey data with internal KPIs, data warehouses, and external industry data; adding aspects of visualization and real-time analysis to the deliverables; and visualizing existing data to make it accessible across the organisation.

Commenting on the launch, the pair said: 'Our goal is to provide services to organizations and assist them in making better decisions using data and analytics. Through our breadth of expertise in a variety of industries such as FMCG, finance, healthcare and tech, we can provide our clients with robust, cost-effective solutions that are scalable but offer a high level of customization'.

Web site: www.sprylytics.com .