Neuroscience Launches for Pradeep's machineVantage
April 1 2019
machineVantage, the company launched in 2016 by NeuroFocus founder A.K. Pradeep to develop AI and Machine Learning-based solutions across business operations, has announced ten new products focused on innovation in marketing and new product development.

<! pod><! pod>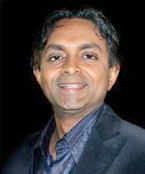 The Berkeley, CA-based firm received backing in 2017 from Unilever Ventures and retail data giant IRI. Dr. Pradeep (pictured), who sold NeuroFocus to Nielsen in 2011, and another company, SaaS firm BoardVantage, to Nasdaq in 2016, says machineVantage combines 'deep understanding of the foundational principles driving consumer purchase behavior' with 'unique algorithms that process information consumers imbibe under the threshold of conscious consumption'.

The ten new products are drawn from a new book, 'AI For Marketing And Product Innovation', of which Pradeep is co-author - and are as follows:
Trend Spotter ' extracting trends in the non-conscious minds of consumers' over time, across geographies and categories.
Product Innovator and Market Sizer, a tool which forecasts market size based on identifying the product and business model innovations that consumers' nonconscious minds desire.
Metaphor Extractor, which 'algorithmically extracts metaphors connected to category, brand, and product to facilitate product and messaging innovation'
Category Busting Metric (CBM) Extractor, which finds 'the metric that matters most' for a category.
Product Naming Engine, which uses non-conscious associations with neurally-bound pre-existing concepts to identify and rank product names
Brand Personality Extractor and Tracker
Pricing and Promotion Model Selector - which 'chooses the right pricing model based on category, brand, product, and competitive dynamics'.
Category Extender, which 'extracts categories that are adjacent in consumers' non-conscious minds'.
Message Personalizer and Neuro Aligner, which personalizes messages to consumers based on demographic information, in real time; and also in accordance with how the brain prefers to process them.
Call Center Script and Product Review Analyzer, which 'reads between the lines' of consumer articulations, extracting implicit issues, concerns and innovations from analysis of call center scripts, dialogs of focus groups, and product reviews.

Pradeep says of the new solutions: 'Blending core learnings and best practices from consumer neuroscience with AI and ML systems enables the successful execution of algorithmically unearthed concepts. Knowing that 95% of consumers' daily decisions are made in the non-conscious mind underscores the scientific validity and the commercial importance of this approach'.

Web sites: www.machinevantage.com and www.aimlinnovation.com .



All articles 2006-19 written and edited by Mel Crowther and/or Nick Thomas.