Nine Drops Ipsos after Election Surprise
May 24 2019
In Australia, newspaper group Nine News has ended its contract with Ipsos after it failed - in common with all the other pollsters in the country - to predict the election victory of Prime Minister Scott Morrison.

<! pod><! pod>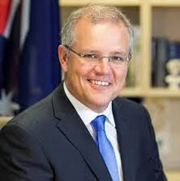 According to marketing news site www.mumbrella.com.au Tory Maguire, National Editor of the Age and the Sydney Morning Herald, announced the break in a column. Nine News has a separate agreement with Galaxy Research which is said not to be affected.

As reported on DRNO earlier this week, the country's politicians and commentators have called for opinion polls to be scrapped since Morrison's (pictured) conservative Coalition defied all sixteen polls held since the election was called, in beating the rival Labor party. Craig Young, President of the research association AMSRO, says Australians are now asking the question 'How could all of the polling companies call the Federal Election result incorrectly?', and the body is now conducting a review of methods used.

Maguire conceded that Ipsos had been predicting a low primary vote for Labor leader Bill Shorten, but like other firms had consistently predicted a Labor win, albeit by a very narrow margin. She noted: 'Polling companies are the main reason Saturday night's result took voters, the media and many political operatives by surprise. The implications of our major pollsters making the same mistakes in a consistent way are serious'. The two papers will review whether they continue to work with any pollsters in the future.

For its part, Ipsos in a statement said it would reassess its methods over the coming weeks, acknowledging that its final poll numbers 'clearly did not reflect the eventual Federal election results last weekend and it needs to do better'. The statement adds significantly: 'No doubt other polling companies who covered the election will be doing the same'.

DRNO notes with some concern that when UK organisations held an inquiry into the reasons pollsters misread the 2015 general election, the result was to introduce a number of checks and weightings to subsequent polls which were then cited as one of the major reasons the same companies got the next election wrong. See DRNO's analysis of this which we hope gives a balanced view but also a good argument for not giving up on pollsters when they are pretty good in many areas, including spotting trends, and the alternative is surely to sit completely in the dark.


All articles 2006-20 written and edited by Mel Crowther and/or Nick Thomas unless otherwise stated.