Obituary: SRI Co-founder Gale Metzger
March 17 2020
Gale Metzger (pictured), co-founder of Statistical Research, Inc. (SRI), died on March 16, 2020 in New Jersey at the age of 83. Metzger's 50-year career in business and media, from statistical research to broadcasting research technology, made him a close witness to US media research history.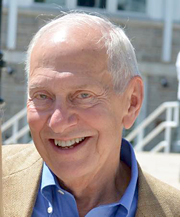 Born in 1937 in Dayton, Ohio, Metzger received his BA in Econometrics from Northwestern University, and was the first in his family to receive a college degree. In 1958, he began his career in media and broadcast research at AC Nielsen, where he went on to serve as Director of Research in the media division.

A decade later, Metzger and Gerald (Gerry) Glasser set up Westfield, New Jersey-based media measurement firm SRI, which created and provided a number of media and consumer research services, and played a key role in the development of Computer Assisted Telephone Interviewing (CATI) and Random Digit Dialing (RDD). Three years after the company's launch, it took over operation of a collaborative industry research effort called Radio's All Dimension Audience Research (RADAR), providing audience ratings for national network radio; and in 2001, the system was sold to radio ratings giant Arbitron (now part of Nielsen) for $25m. SRI also developed the SMART system (Systems for Measuring and Reporting Television), which used TV ratings technology, in collaboration with dozens of major TV networks, advertisers and media agencies. It also introduced the Smart code, described as a 'universal programming code' similar to the universal product code for TV, through which marketers could track their sales across all points of distribution; and a group of networks and ad agencies sponsored SRI to launch the Smart TV ratings lab in Philadelphia.

Prior to the sale of SRI's custom multimedia research division to Knowledge Networks in 2001, the firm had more than 200 employees, and clients included all major TV and radio networks, many local stations, ad agencies and national advertisers. The same year, SRI's original radio measurement business was sold to rival Arbitron. Following these sales, Metzger served as a consultant to GfK/Knowledge Networks/SRI and others.

Earlier, in 1979, Metzger provided detailed testimony before the US Senate regarding the 'erroneous' commercial credit reporting practices of Dun & Bradstreet. He testified again before the Senate Committee on Commerce, Science and Technology, concerning proposed legislation, the FAIR Ratings Act of 2005.

During his career, Metzger was Chairman of The ARF's (Advertising Research Foundation) Board of Directors as well as Chairman of its Research Quality Council; President of the Market Research Council and of the Radio and Television Research Council; and he received the Hugh Malcolm Beville Award from the National Association of Broadcasters in recognition of his 'distinguished professional career in broadcast audience research'. He also acted as a chief consultant to the industry's Committee On National Television Audience Measurement (CONTAM), an organization born out of the US Congressional Harris Committee investigation into the Nielsen system. In 2009, The ARF presented its Lifetime Achievement Award to Metzger for his outstanding service to the industry. In his retirement, Metzger served on the Board of Trustees at the Overlook Hospital Foundation in Summit, New Jersey.

Jack Wakshlag, founder of Media Strategy, Research & Analytics, described Metzger as 'the researcher's researcher', adding: 'Everyone learned how to do it better from Gale. And he was the finest of human beings. Gale made folks better for knowing him. I was blessed to have known him'.

David Stanton, VP of Marketing Communications at GfK, posted on LinkedIn: 'Noting with a heavy heart the passing of my friend and mentor Gale Metzger. I learned an immeasurable amount about kindness, collaboration, and high standards from Gale. He was a true 'gentle man' - a kind that comes along rarely'.

Metzger was predeceased by his beloved wife of 49 years, Angela Serpe Metzger (1938-2006). He is survived by children Matt Metzger (Debbie Pupo), Cassandra Metzger, Beatrice Fagan (John Fagan), Eleanor Armstrong (Nick Armstrong), Olivia Metzger Penizotto; brother Gene Metzger (Barbara Metzger); grandchildren Isabelle, Lucas, Austin, Jack, Curtis, Drew, Margot, Sabrina and Ava; and his beloved and faithful dog, Leopold the Great ('Leo').

In lieu of flowers, donations in Metzger's memory can be sent to: www.mobilemealsofwestfield.org and www.nourishnj.org , two charities which deliver meals to the elderly.

The Metzger family will hold a memorial at a future date. Notes to the family can be sent to c/o Beatrice Fagan, 6 Westminster Place, Morristown, NJ, 07960 or GaleMetzgerMemorial@gmail.com .


All articles 2006-20 written and edited by Mel Crowther and/or Nick Thomas unless otherwise stated.