'Sharp Fall' in UK's Q2 Market Research Budgets
July 15 2020
UK market research budgets appear to have fallen sharply during the second quarter of the year, with a net balance of -42.2% of marketing execs recording a drop in spending, according to the latest IPA Bellwether Report.

<! pod><! pod>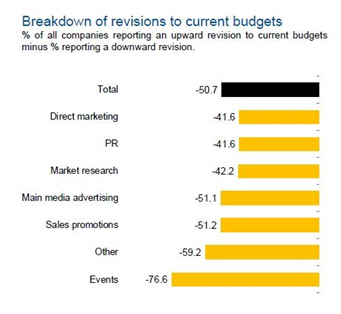 The Bellwether is based on a questionnaire survey of around 300 UK-based companies that provide regular quarterly information on trends in their marketing activities. In Q2, market research - which includes qual and quant, brand tracking and product development research - saw nearly half (48.4%) of panel members reporting a reduction in research budgets, while just 6.3% reported an increase in MR spend (net balance is the difference between those reporting increased and decreased spend). This compares with the first three months of the year, when market research budgets were identified as the category most impacted by the Covid-19 pandemic, with a net balance of -21.0% of marketers reporting a downturn; and with -13.2% in the fourth quarter of 2019.

Although funds available for MR were cut in Q2, the fall was 'softer' than total marketing budget revisions, in which a net balance of -50.7% of firms posted a reduction in spending; down from -6.1% in Q1. During the most recent period, almost 64% of panel members registered a decrease in spending compared to the first quarter, while only 13% posted an increase. These figures replace the report's previous lowest point of -41.7% in Q4 2008, following the global financial crisis.

In the second quarter, funding for events marketing unsurprisingly saw the sharpest reduction, with a net balance of -76.6% reporting a decline in this area; and main media advertising also reported a steep drop, with a net balance of -51.1% of marketing execs seeing a decrease in available spend. Direct marketing and PR experienced the 'joint softest' budget cuts in the second quarter, although with net balances of -41.6%, the downturns were still severe. Meanwhile, sales promotions (-51.2%) and other marketing expenditure (-59.2%) each saw 'historic reductions' for their respective categories.

In the second quarter, two-thirds of survey participants reported a pessimistic outlook for finances against 11.5% who expected an improvement - a net balance of -55.1%. The result represented the most severe degree of negativity since the fourth quarter of 2008, when the net balance measured -57.7%.

Looking forward however, Eliot Kerr, Economist at IHS Markit and author of the Bellwether Report, anticipates a 'robust recovery' in macroeconomic conditions during 2021, as businesses move closer to operating at full capacity. Paul Bainsfair, IPA Director General, adds: 'Our evidence from previous recessions and periods of buoyancy consistently shows that cutting marketing investment weakens brands in the near-term and limits growth and profitability in the long-term. Ultimately, companies must invest in marketing in a recession in order to profit in a recovery'.

Web sites: www.ipa.co.uk and www.markit.com .


All articles 2006-20 written and edited by Mel Crowther and/or Nick Thomas unless otherwise stated.