Zappi Restructures Executive Team
Ad and innovation testing platform Zappi has divided its executive team into two: the Futures team, which will set the company direction, and manage its vision and values; and the Leadership team, which will focus on day-to-day operations covering revenue, resourcing and efficiency.

<! pod><! pod>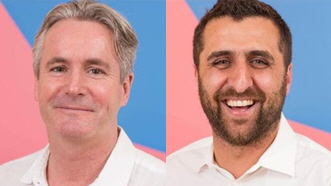 Zappi's highly automated platform is used to test and optimize ad and product concepts. According to the firm, the restructure brings a range of experience and opinions into its executive leadership, and positions it to focus on long-term innovation. The Futures team is chaired by Zappi's CEO Stephen Phillips (pictured left) and includes the firm's founding partners as well as two 'rotating' staff members who will serve for six-month periods: for the first six months, rotating members are Z Johnson, VP of Customer Transformation; and Andrea Tambourine, Business Operations Manager. Founder Dave Birch has also moved into a new role to lead the company's newly formed innovation arm Zappi X.

Ryan Barry (pictured right) chairs the Leadership team, which includes: Emma Van Pelt, newly promoted to VP, Marketing; Tom Holliss, Head of People and Culture; Yvonne O'Brien, EVP, Go-to-Market; Babita Earle, EVP, Global Partnerships; Julio Franco, EVP, Global Customer team; Scott Flanagan, EVP, Global Sales; Donovan Kennedy, Chief Product Officer and Head of UX; Brendon McLean, CTO; Jimmy Vassilas, CFO; and COO Wojtek Kokoszka.

Phillips comments: 'At Zappi, all team members are encouraged to make decisions, provided they consult the people who will be affected by those decisions, or can help make the decision better. While these new teams are not meant to make all the decisions in the company, they will create clarity on direction and help align and coach people to achieve company goals. I'm looking forward to being able to focus solely on innovation and keeping Zappi moving toward the future'.

Web site: www.zappi.io .