Launch of 'MESHtopia' Best Practice Center
Analytics and insight company MESH Experience has announced the launch of a global center of best practice, to be known as MESHtopia, and led by Global MD Dana DiGregorio and Data Quality Manager Martin Daniel.

<! pod><! pod>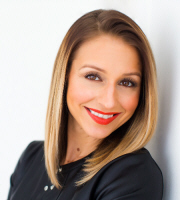 The company says the launch comes at a time of rapid growth - it has made nine new hires this year including Daniel and former Kantar exec Siham Chowdhury as Director of Data Science.

The center will pool the expertise and techniques of the firm's client service, research, analytics and data teams with thought leadership, and make articles available on a web site for easy access and searching. The new center will enhance the output of the firm's core Real-time Experience Tracking (RET) surveys; and more generally will aim to improve efficiency in the business and shareability of its knowledge internally.

DiGregorio (pictured) is a former Nielsen employee and an experienced team leader, while Daniel has helped to shape the data quality function at Euromonitor and latterly at MESH. DiGregorio comments: 'If I can take away the wrinkles in our ways of working, I can lift the motivation in my team and provide our clients with the best quality deliverables. The marketing effectiveness industry is at a pivotal moment of change, and we must be ahead of the game in our methods and processes'. Founder and CEO Fiona Blades describes MESHtopia as 'a fabulous way to harness the learnings we have uncovered over the last 16 years'.

The firm is online at www.meshexperience.com .