Nikki Lavoie Named ESOMAR 2023-2024 Council President
ESOMAR has announced the election of Nikki Lavoie as its 2023-2024 Council President, replacing Kristin Luck who has completed her two-year term and will now serve an additional two years in an ex-officio capacity. MindSpark founder Lavoie is currently Council Vice President.

<! pod><! pod>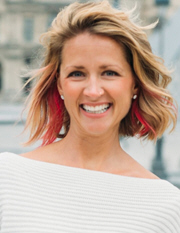 Founded in 1947, ESOMAR now reaches more than 50,000 professionals and over 750 companies in 130+ countries. Lavoie (pictured) is currently the EVP of Global Experience Strategy at Savanta, which acquired her qual and user experience agency MindSpark earlier this year. In her current role, Lavoie applies her experience as a qualitative researcher to help brands and agencies find a deeper connection with and understanding of their communities. Throughout her career, she has worked to advance insights and market research, involved with both the commercial and advocacy sectors of the industry.

Also serving on the 2023-2024 council are eight newly elected representatives who hail from Africa, Asia Pacific, Europe, Latin America and North America:
Alain Mizrahi
Corrine Moy
Dharmendra Jain
Joy Uyanwune
Martha Llobet
Tom de Ruyck

A Vice President and Treasurer will be selected by the new council during its first meeting in December; and together with the President, CEO and Director General Parves Khan, and CFOO Marie-Agnes Mourot, they will constitute the ESOMAR Executive Committee.

Lavoie comments: 'I joined ESOMAR as a young professional member almost twelve years ago, and over the years the organization has significantly impacted me both professionally and personally.My previous experience as 2021-2022 Council Vice President has sharpened my focus and illuminated the priorities that I believe we need to be addressing as an industry. I'm thrilled to be able to continue to serve my fellow members, while also focusing on engaging and inspiring the global insights community'.

Web site: www.esomar.org .