Fluent Studios
Fluent Studios is Fluent Interactionís very own purpose-built viewing facility and workshop environment, available for short-term hire.

With two separate rooms and a break out area, our entire basement is dedicated to a large 2-room usability lab, complete with High Definition audio visual technology. Our facilities are suitable for allowing up to eight observers to view sessions.

Our clients include a range of organisations and freelance consultants with an interest in user research. Clients are invited either to run their own research independently or take advantage of our usability, psychology and technical expertise.

Fluent Studios offers the perfect combination of space and technology at short-notice and great value-for-money.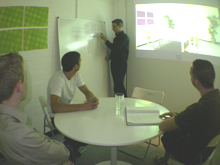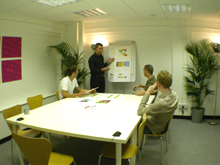 Rooms Available
Room No. 1
No. of Respondents
Observation Room?
The Testing room
12
Yes
Room No. 2
No. of Respondents
Observation Room?
Room 2
0
Room No. 3
No. of Respondents
Observation Room?
Room 3
0
Room No. 4
No. of Respondents
Observation Room?
Room 4
0
Services Provided
Facilities
Our space is comprised of 2 purpose built rooms connected by HD AV technology, providing a flexible usability testing/observation environment. We also have a break out area ideal for informal discussions and refreshments.
Our rooms can be easily set up for either a formal or informal style and can comfortably accommodate up to 12 users and 6 observers.
All rooms come equipped with:
Audio Visual projection
2-way audio connection between rooms
Flipchart
Whiteboard
Wireless internet access
Networked PC
Light refreshments
On-site technical support
Recording facilities
Air conditioning
Our Additional Services
DVD recording
Picture-in-picture screen capture
Catering on request
Focus group facilitation
User research consultancy
Rapid prototyping workshop
Price Guide
We aim to offer all clients a bespoke solution based on their individual requirements. Further rates are available on request. Our guideline rates are:
Basic hire/With Facilitation
Half day (09.00-12.30; 13.30-1700)£345/£575
Full day (0900-17.30)£695/1195
Evening (18.00-21.00) £445/£745
Full day rapid prototyping workshop n.a/£1,850
All prices are exclusive of VAT.
Prices include light refreshments (tea, coffee, mineral water, biscuits, fruit bowl). Further catering available on request.