The Qualitative Lab - Manchester
Est.1985 as the UK's first suburban viewing facility, we have the experience to anticipate needs and exceed expectations - all wrapped up in a warm & friendly welcome! Our well equipped, researcher designed facilities provide a comfortable, relaxed environment. Clients enjoy our professional service, unrivalled hospitality & excellent catering, returning time after time.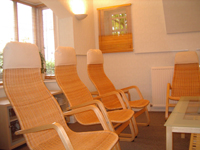 Rooms Available
Room No. 1
No. of Respondents
Observation Room?
Studio
up to 12
yes
Services Provided
Boardroom style available upon request
Parking available
Exceptional catering available for you and your clients
Flat screen TV with DVD/VHS playback facilities in main client room
Rails for advertising testing in main client room
Large one-way mirror
Air conditioned throughout
Professionally designed audio and video recording systems
Recordings output in a range of digital formats (DVD/MPEG etc..)
Editing service available for when you want to include clips of the session in your presentation
Full range of first class refreshments
Our Additional Services
Standard office services (phone/broadband/fax/PC usage) available free of charge to those viewing
Recruitment services via 'The Field Division' also available – b2b and consumer
Experienced moderators are available on upon request
Note taker and simultaneous translation available upon request
Price Guide
For more information, please visit our
website
.
Association Memberships
AQR and VFA.