Obituary: Steve Taylor, We Work With Data MD
February 15 2018
Steve Taylor, co-founder and MD of MR data analysis and collection specialist We Work With Data, died suddenly of a brain haemorrhage on Sunday 21st January 2018. He was 49 years old.

<! pod><! pod>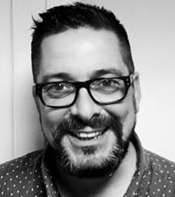 Taylor (pictured) was born in South London in 1969, and in 1987 he began his market research career as a spec writer with Digitab (now Taylor Nelson's specialist data bureau), before moving into similar roles at IDA Limited and the Harris Research Centre. After this, he became DP Operations Manager at ORC International, and latterly served as the firm's EIC Development Consultant. He then worked for MRDC as Senior Project Manager, and European Operations Manager at Claritas UK, before joining RSM as Research Technology Manager.

In 2004, he set up his own consultancy Inputech, to focus on areas including software design and general MR consultancy. After five and a half years and more than 250 projects, he co-founded Folkestone, Kent-based We Work With Data (w3dL) with former Harris Research Centre colleagues Mike Trotman and Antony Saccomani, aiming to help clients make sense of data and understand the insights it can deliver. In 2015, w3dL secured the support of Kent County Council to fund its expansion, and before he died Taylor had been working on plans to bring new people into the business, creating jobs for the local community. According to his colleagues, he was particularly excited about bringing a fresh eye to data visualisation and delivery for end users.

Back in 2003, he was elected to the committee of the Association for Survey Computing (ASC), and he later became its Vice Chairman. In 2006, he hosted an ASC conference at Imperial College on presentation and dissemination techniques, and he later chaired a Q&A session with some of the leading lights of the MR software industry and delivered a paper at the 2016 conference (goo.gl/CMXQZf).

More recently, Taylor and Tim Brandwood of TBL Systems set up a coding software company called Digital Taxonomy, to create a set of tools to help researchers make better use of unstructured survey data. A year ago, the team launched a machine learning tool called Codeit, to help code answers to open-ended questions.

Taylor will be hugely missed, both as an expert in his field, and as a friend. Adrian Golder-Hayes from w3dL says he 'bridged the gap between researcher and analyst', and adds: 'People appreciated Steve not only for his considerable technical skills, but also the way he conversed with them in a friendly, humorous and passionate way'. Former colleague Peter Jackling of IDA says Steve is remembered as being innovative in his use of the software, 'smart, leading edge, not content to follow the usual furrow'. Askia founder Jerome Sopocko adds: 'Steve's laughter was almost conspiratorial - you and he knew something others didn't. Steve was passionate - and therefore easy to fall out with, but never for long. He loved people and they loved him back. I know I did'.

ORC MD and former colleague Richard Cornelius states: 'Steve had a wide network of friends and colleagues and was very well-known and respected throughout the market research and survey computing industry, and his passing will leave a big hole in many lives. As one of his old colleagues once said: he was just the right side of crazy'. Alexis Pamboris, who also worked with Steve at ORC, adds: 'Steve's infectious laugh and overall energy are still recent in my mind. His last e-mail to me simply read: 'Have fun, you doughnut x'. It's going be harder now, but I'll try'.

Outside work, he was a lifelong Everton supporter, as well as a talented and passionate musician. He played bass with London based hip-hop outfit Archive, before joining indie band The Milltown Brothers. The latter's guitarist and former ORC colleague Simon Nelson states: 'Between 1997 and 2000 we produced some really creative music for which Steve contributed significantly. We will miss Steve - his intelligence, wit, generosity and joie de vivre. RIP Steve 'Boy' Taylor - Milltown Brother, optimistic cockney sparrow among the northern glumsters'.

Taylor is survived by his partner, Lisa Jacobs, and their two daughters. His funeral will take place at 3pm on Monday, 5th March 2018 at Hawkinge Crematorium, Aerodrome Road, Folkestone CT18 7AG and the reception will be held at the Red Lion Pub, Red Lion Square, Hythe, Kent, CT21 5AU. The family would like it known that all are welcome to attend the service and reception, to pay their final respects and share their memories of Steve.

Please send donations to: Macmillian Cancer Support via Hambrook and Johns, Dymchurch Road, Hythe, CT21 5AX. Floral tributes can be sent to the same address.


All articles 2006-18 written and edited by Mel Crowther and/or Nick Thomas.