Obituary: Millward Brown Co-founder Gordon Brown
June 17 2020
Gordon Brown, the co-founder of Millward Brown, died peacefully at his home in the UK on Saturday 6th June, after a short battle with dementia. He was 76 years old.

<! pod><! pod>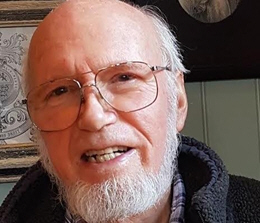 Brown (pictured) started life as a would-be Physicist at Oxford, but switched to PPE before joining the VSO (Voluntary Service Overseas) to teach Physics and Chemistry in Nigeria. After this, in 1967, he took up a position as a market research trainee at Marplan, then spent a short spell at ASL, and in 1969 moved to the Research Department of General Foods, where as Research Manager he worked alongside Maurice Millward.

Four years later, the pair founded what was to become advertising, marketing communications, media and brand equity research specialist Millward Brown, based in the Midlands town of Leamington Spa. Millward described the firm's early objective as being to provide clients with information to allow them to make the correct marketing and management decisions; while Brown said the fundamental belief of the company was that techniques and technology should be regarded as adjuncts to thinking, not as substitutes for it.

As the company developed, Millward focused on the operational side of the business, finding practical solutions to sampling and technical problems, while Brown concentrated on the company's intellectual developments. Three years after launch, the company set up its first continuous tracking study, Dynamic Tracking, for client Cadbury Schweppes. The methodology was designed to enable brands to trace how consumer perceptions and awareness impact their goals, and provide an indication of a brand's future financial success by linking survey responses to sales. In his book: The Global Brand, Nigel Hollis (now Kantar's Chief Global Brand Analyst) said that Brown's quantitative approach to ad assessment represented an enormous challenge to the conventional wisdom of the time which believed that consumers were highly involved with advertising. Brown said that they weren't, which led to intellectual confrontation between Millward Brown and several London ad agencies.

Brown went on to publish 'Advertising Tracking Studies and Sales Effects', and then introduced The Awareness Index in his paper: 'Modelling Advertising Awareness'. This index became a widely used metric for measuring an ad's efficiency in generating awareness. Then in 1988, Brown and Hollis developed ad copy testing solution Link, which uses a set of evaluative and diagnostic questions to predict the impact of an ad, in terms of both the attention it will generate and the sales that will result. Hollis says that in addition to Link, many underlying components of Kantar's current solutions derive from Brown's fertile mind, including trending attitudinal data against marketing spend, modelling ad awareness, and image profiling.

Recognising the huge potential the US had to offer the business, Brown secured speaking engagements at the Advertising Research Foundation in New York, and then began introducing tracking studies in the US, run out of the UK. It soon became evident that Millward Brown needed a field force in the US, and in 1985 the firm was floated on the UK Unlisted Securities Market, raising the funds needed to acquire US-based Ad Factors the following year. Millward Brown then expanded to Europe, where it was led by Tony Copeland.

In 1989, Millward and Brown sold their company to communications giant WPP, and Brown continued to play an active role in the business, publishing a paper - fondly known within Millward Brown as 'The Black Book' - which outlines the way that advertising affects sales. He then turned his focus to print advertising, and together with Gordon Pincott, conducted a series of experiments and tailored studies to prove that the medium was as effective as TV.

Millward retired in 1992 to pursue a number of interests, including a passion for music; and Brown followed him two years later to spend nearly half a decade sailing around the world with his wife Jackie. Brown frequently invited people from Millward Brown to join him for a long weekend of sailing. Whether these involved a trip to France, the Channel Islands or simply along the coast of England, the excursions were invariably eventful. For instance, an alarm clock set an hour too late resulted in a near grounding on Salcombe Bar; while forgetting the huge tidal range of the Channel Islands, left Brown's yacht, The Zodiac, hanging thirty feet down from the harbour wall.

Throughout his life, Brown, a Methodist, enjoyed church music - having learned to play a traditional pipe organ at the age of fifteen. According to Jackie, wherever he lived, Brown would find an organ to play for church services, create ad hoc choirs for special events, and generally play a full part in various aspects of church life.

Hollis says that when he thinks of Gordon Brown, the term 'an enquiring mind' best describes him. 'He had an insatiable curiosity about many things and a willingness to follow through on his ideas, to explore, experiment and create something new.' Hollis explains. 'It was Gordon's willingness to ask questions and promote his theories that helped inspire many of us who worked for Millward Brown at the time. But perhaps his biggest legacy is the inspiration that he provided for all the people that worked with him, which still lives on'.

Several years after retirement, Brown and his wife returned to visit some of the company's US offices and told former colleagues about the time when he was invited to a lunch with client Unilever. During the meal, his hosts announced that while they loved what Millward Brown had to offer, as a global company, they needed the same research worldwide, servicing a minimum of 28 countries to start. According to Brown, it was an ultimatum that could not be refused, no matter the risk involved.

Brown is survived by his wife, their son and daughter and five grandchildren. Jackie says that Brown was deeply proud of his family, and it's fitting that he was able to spend the last days of his life in their company. The family will hold a memorial service at some point in the future.


All articles 2006-20 written and edited by Mel Crowther and/or Nick Thomas unless otherwise stated.