AGENCY
SEARCH PAGE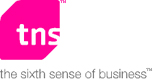 Get in touch with us...
Who to contact?
Jungyul Yang, Managing Director
Address:
5th Floor
An Won Building, 14-15 Yoido-dong, Youngdeungpo-gu, Seoul 150-010, Korea.
Telephone:
02-3779-4300
Fax:
02-782-5533
Email:
Office.Kr@tns-global.com
Web:
https://www.tns-global.co.kr
TNS Korea
Recent News:
DRNO
(Daily Research News Online)
COMPANY OVERVIEW
What we do...
TNS Korea is the largest custom research firm in Korea utilizing our extensive experience in advanced research techniques in nearly every consumer research area.
Since TNS Korea was established in 1984, we have carried out research activities covering all types of consumer research techniques.
With expertise ranging from communication and advertising to market opinion and consumer understanding, we offer our clients a full range of qualitative and quantitative services in consumer, social and industrial research.
We have expert teams dedicated to economic sectors, people who have been working together for many years with major companies and national and international organisations, in every market.
Number of employees:
1-4