AGENCY
SEARCH PAGE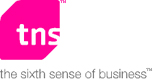 Get in touch with us...
Who to contact?
Tania Kullmann
Address:
48 Pyrmont Bridge Road
Pyrmont, NSW 2009, Australia
Telephone:
+ 61 2 9563 4200
Fax:
+ 61 2 9563 4202
Email:
tania.kullmann@tnsglobal.com
Web:
https://www.tnsaustralia.com
TNS Australia
Recent News:
DRNO
(Daily Research News Online)
COMPANY OVERVIEW
What we do...
TNS Australia is part of the Taylor Nelson Sofres group, one of the world's largest marketing information companies. TNS Australia provides ad hoc and continuous quantitative and qualitative research. TNS Australia is able to value add client findings by benchmarking results against world's best practice. It is well placed to facilitate research throughout Asia Pacific and globally. TNS works with clients to help them make effective business decisions through thorough research and consultancy across a range of industry sectors.
Number of employees:
100-199