AGENCY
SEARCH PAGE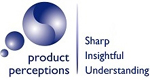 Get in touch with us...
Who to contact?
Dominic Buck / Yvonne Taylor / Keith Greenhoff
Address:
Windsor Place
Faraday Road, Crawley, W. Sussex, RH10 9TF
Telephone:
01293 558955
Fax:
01293 534963
Email:
info@productperceptions.com
Web:
https://www.productperceptions.com
PPL Insights
product perceptions is a specialist market research agency conducting consumer and sensory research in the UK and internationally.
Recent News:
DRNO
(Daily Research News Online)
COMPANY OVERVIEW
What we do...
product perceptions ltd. are international experts in product and sensory research dedicated to developing more successful products for their clients. Our multi-disciplinary teams of consultants and researchers advise, conduct and report on research: answering the immediate objectives and the business issues underlying them.
We conduct U&A, concept, pack and positioning research and all forms of product testing for benchmarking, development and optimisation.
We deliver actionable insights from effective research, communicated well.
Number of employees:
10-19