AGENCY
SEARCH PAGE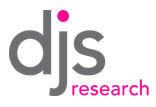 Get in touch with us...
Who to contact?
Danny Sims
Address:
3 Pavilion Lane
Strines, Stockport, Cheshire, SK6 7GH
Telephone:
+44 (0) 1663 767 857
Fax:
Email:
contact@djsresearch.com
Web:
https://www.djsresearch.co.uk
DJS Research Ltd
We are a full service market research agency based in Cheshire, UK, but with international reach. We are fully resourced, with our own in-house CATI unit, data team and fieldwork department. Operate the VoicED Panel.
Recent News:
DRNO
(Daily Research News Online)
COMPANY OVERVIEW
What we do...
Full service market research agency based in the North West of the UK. We conduct both quantitative and qualitative research projects across a huge number of sectors. We are approved suppliers for some of the world's leading organisations including:
learndirect
OFWAT
Severn Trent Water
The National Archives
The British Council
EngineeringUK
The Competition Commission
Local Government Association
We operate within consumer and business to business markets offering both qualitative and quantitative research services. We work for private sector clients, along with public sector and voluntary organisations.
We offer clients "More for Less" through competitive prices and Research Directors and Senior Researchers delivering projects from start to finish. The market research agency offers a range of services from identifying market research requirements, devising a suitable programme, through to project implementation and reporting findings.
We are able to offer this service due to the fact that we have brought all aspects of the process in house - including a CATI unit, data services department and field work team. This, coupled with our lower overheads, means we are able to offer the same quality as larger agencies, but in a more responsive and more cost effective way - we appear on several government frameworks alongside companies such as Ipsos MORI, GfK, TNS and Chime.
DJS Research is a family-owned business which was set-up in 2001 and has grown every year since. Based in Strines, Cheshire, we now employ 46 permanent staff, along with a team of 100 telephone interviewers (all from the local area). We take our role in the community seriously, and consider ourselves an ethical company, with an understanding of our responsibility to our staff, the local community and to the wider business world.
In addition, we also supply daily market research insights and findings on our website - you can view them by visiting www.djsresearch.co.uk and clicking on the Insights section.
Number of employees:
20-49