AGENCY
SEARCH PAGE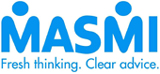 Get in touch with us...
Who to contact?
Sergey Kolobanov
Address:
16 St Martin's le Grand
St. Paul's, London EC1A 4EN
Telephone:
+ 44 (0) 20 7397 8360
Fax:
Email:
masmi-hq@masmi.com
Web:
https://www.masmi.com
MASMI
Our intimate knowledge of the markets where you do business means we provide an invaluable local perspective in addition to our international expertise.
Recent News:
DRNO
(Daily Research News Online)
COMPANY OVERVIEW
What we do...
Masmi UK, part of the MASMI RESEARCH GROUP are expert in International research with offices throughout Europe. We cover all forms of Quantitative and Qualitative research including NPD, consumer pricing, segmentation and product testing.
Number of employees:
1-4