AGENCY
SEARCH PAGE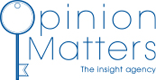 Get in touch with us...
Who to contact?
Andy Gallacher
Address:
Northburgh House
10a Northburgh Street, London, EC1V 0AT
Telephone:
020 7251 9940
Fax:
020 7253 8885
Email:
andy.gallacher@opinionmatters.co.uk
Web:
https://www.opinionmatters.co.uk
Opinion Matters
Recent News:
DRNO
(Daily Research News Online)
COMPANY OVERVIEW
What we do...Take ownershipof an issue
, improve credibility, raise brand awareness or become thought leaders in your market.
Through undertaking an Opinion Matters research project, your business brand can become top of mind for those who matter most to your business. We offer a variety of different research services all with the core remit of getting your target clients, consumers or audience interested in you.
The question is, are you ready for all of the attention?
Number of employees:
5-9