AGENCY
SEARCH PAGE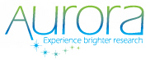 Get in touch with us...
Who to contact?
Justin Alderson
Address:
Enterprise House
1-2 Hatfields, London, SE1 9PG
Telephone:
020 7960 9680
Fax:
020 7960 9681
Email:
team@auroramr.com
Web:
https://www.auroramr.com
Aurora Market Research
We're a specialist market research agency providing online quantitative research services for marketing and market research professionals.
Recent News:
DRNO
(Daily Research News Online)
COMPANY OVERVIEW
What we do...
Aurora is a boutique full service online research agency, with our own 100,000 strong UK consumer panel. Our skilled researchers offer a high quality, bespoke approach. We have particular expertise in the loyalty, travel and financial industries and also offer Omnibus and sample only provision from our expertly managed panel.
Number of employees:
10-19