AGENCY
SEARCH PAGE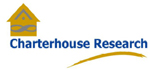 Get in touch with us...
Who to contact?
Julie Irwin
Address:
68 Lombard Street
London EC3V 9LJ
Telephone:
020 7868 1710
Fax:
020 7868 1800
Email:
mail@charterhouse-research.co.uk
Web:
http://www.charterhouse-research.co.uk
Charterhouse Research Ltd
The leading specialist financial market research consultancy, combining research know-how with detailed market sector knowedge to deliver commercially-orientated, actionable results.
Recent News:
DRNO
(Daily Research News Online)
COMPANY OVERVIEW
What we do...
Financial and business service specialists where all projects are managed throughout by experienced research directors skilled in qualitative and quantitative consumer, corporate and intermediary research in banking, investment, insurance, pensions and mortgage markets.
Working in partnership with its blue-chip clients, Charterhouse delivers real insight and value, reflected in its 96% repeat business rate and shortlisting for Research magazine's Best New Agency 2003-2006.
Number of employees:
5-9