AGENCY
SEARCH PAGE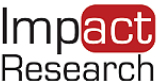 Get in touch with us...
Who to contact?
Darryl Swift
Address:
Lancaster House
11 Churchfield Road, Walton on Thames, Surrey KT12 2TY
Telephone:
+44 1932 226793
Fax:
Email:
darryl.swift@impactmr.com
Web:
https://www.impactmr.com
Impact Research Ltd
Recent News:
DRNO
(Daily Research News Online)
COMPANY OVERVIEW
What we do...
As a company, you have to make critical strategic and tactical decisions as you seek to identify and satisfy your customers' needs.
Impact Research provides market research expertise that will help you reduce the risks involved in these decisions.
We deliver a full portfolio of market research solutions that enable you to:
-Reduce the risks surrounding a new product launch
- Improve your product or service offering
- Improve satisfaction of your service
- Improve your brand strength in the market
- Identify opportunities for your brand or service
- Establish the best way to target customers more effectively
Number of employees:
1-4