AGENCY
SEARCH PAGE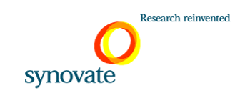 Get in touch with us...
Who to contact?
Robert Skolnick
Address:
360 Park Avenue South
5th floor New York, NY 10010
Telephone:
+1 212 293 6100
Fax:
+1 212 293 6666
Email:
robert.skolnick@synovate.com
Web:
https://www.synovate.com
Synovate USA
Recent News:
DRNO
(Daily Research News Online)
COMPANY OVERVIEW
What we do...
Synovate US draws on the extensive expertise and capabilities of a global agency while offering our clients the flexibility and exceptional service normally associated with a smaller firm. Our passion for what we do is evident, whether we are undertaking a large and complex global study or a straightforward, single market project.
Number of employees:
1,000+