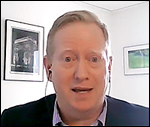 Zooming In On...
Lars Long, Altiant CEO
The first of our video podcasts on MrWeb / Daily Research News, recorded at the end of January 2021 - with a very brief series introduction.
Altiant is a specialist researcher in luxury markets, from spirits, leather goods and watches to wealth management and five star holidays. How has the panedmic affected them? What's it like to recruit and survey rich people? And what office feature lasted all of half an hour, in the first days of GMI, when Lars started work in Rob Monster's basement?


Posted 4th February 2021
Home pages:
Daily Research News headlines
-
Features section
.
Links to the archive, general search and other recent interviews to appear here soon - this is the first in the series!
Key words: Wealth management,HNWI,VHNWI,UHNWI,luxury markets,rich people,fieldwork,data collection,incentives,luxury brands,highly affluent,household income,millionaires,investable assets,Luxury Daily,GMI,start-up,LVMH,Covid,Hilton,Louis Vuitton,Emirates Airways,Cartier watches,perfume,handbags,leather goods,luxury travel,cruise industry,duty-free,revenge spending,new normal,hospitality,reponse rates,recruiting challenges,airport business lounges,business class