MRS Conference Feature: Double Big Data
March 26 2013
Last week's MRS Conference in London featured two sessions focused on big data. Interesting, high powered... and ultimately frustrating, but perhaps only because it's too large a topic, already, not to have its own conference. Nick Thomas reports.

<! pod><! pod>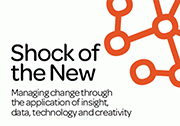 Say this for the MRS - they can pull in the speakers these days. The big data sessions featured clients from BSkyB, Google, Facebook and RBS - all topical for good or bad reasons - as well as The Information Commissioner himself, and luminaries from the provider side including high profile company founders of YouGov and dunnhumby.

In a way it was a shame that Tuesday's 'Keynote Debate', including Clive Humby, Stefan Shakespeare and Facebook Director Simon Milner, should focus almost exclusively on the privacy issues surrounding Big Data, and not find more time to explore its potential and progress. However, with Christopher Graham (the IC from the ICO) completing the foursome it would equally have been a shame not to give data protection a good part of it.

The debate format worked quite well here, with journalist Tim Phillips ably steering things and alternating 'questions for the whole panel' with specific probes to individuals, given their widely different perspectives. Phillips was not averse to raising the awkward questions, at one point quizzing Milner on Facebook's variable attitude to privacy and then handing him an application form to sign the social network up for the MRS' Trust initiative, raising a big laugh from a knowing audience but not getting the new subscriber.

Shakespeare, as Chairman of the UK government's Data Strategy Board, evidently serves as an advocate of the usefulness of big data - and of joined-up government - and spoke of the dangers of shackling this potentially powerful technology with wrongly targeted privacy legislation. The Board's current aim is to 'push responsibility for misusing data down the chain to the misuser' - which means coming down hard on those who break the privacy law, rather than framing the laws in too stifling a way to start with.

Facebook's Milner said his company believed the privacy issue to be less important to the average member of the public than insiders often imagined. Their analysis finds no particular spikes and troughs in online conversation about data protection at times when it's in the news - it doesn't generate much debate - which is perhaps an example of big data coming to the service of big data. Is it possible, however, that people who charge online and give their opinions are by definition less likely to be those worried about their data privacy? Now there's a thought.

Graham is no doubt used to being cast as party pooper by commerce, and showed an admirable willingness to stick an oar in when mutual back-slapping threatened to break out, patiently putting the converse view but tactfully phrasing it in terms of mutual advantage. The confidence of the consumer is crucial if big data is to realise its potential, he says - and practical legislation needs to ensure this confidence can be maintained.

Talking of practical legislation, Graham said the current format of the EU's draft data directive was enough to make him want to 'shoot himself'. The wording is overly proscriptive, and horrendously complicated, with 'over 4,000 amendments' doing the rounds at present. In his opinion, the whole framework of the law needs 'modernising' and it's very important the bill is not lost altogether. He believes that despite the current quagmire, the terms will be finalised and the law promulgated before it's lost in the EU changeover in 2014. Clive Humby appeared to endorse the need for simplification, pointing out that consumers don't read long and complicated legal codification and will give the issue a miss rather than go through something akin to the average software EULA.

The debate did also touch on a couple of other areas, Humby and Shakespeare both addressing the potential for combining private and public sector data for a good cause: for example, Humby said looking at the supermarket shopping behaviour of consumers who had just lost their job showed marked changes in buying, suggesting that this might be of immense use to government planners. Again, this inevitably brings the conversation back to privacy. The other area, on which the four just got started towards the end of the session, was the lack of suitable skills for tackling big data among the UK workforce. Milner said Facebook was having to import computer science engineers for the growing area, while Shakespeare said this was a focus for the efforts of the Data Strategy Board. We'd like to have seen a lot more discussion of this last issue, and will try to address it in forthcoming features in our big data section.


The other big data debate, held on Wednesday morning, also addressed the skills gap, also somewhat in passing. This session was subtitled 'Tactics for building a unified view of the customer', and brought together BskyB's Director of Strategy and Insight Lucien Bowater, RBS' Head of Customer Experience Steve Whitty, Google Group Product Marketing Manager Mark Riseley and Jo Rigby, MD EMEA at UK agency MESH Planning.

This debate, lacking the central focus of the other, dodged between a lot of separate points, but held together by the theme of the practicalities of working with big data. Cranfield Customer Management Forum's Emma Macdonald, in the Chair, put similar questions to all four but allowed them to roam onto areas of specific interest to their organisations. In Google's case, there is some frustration with big data, which Riseley feels is 'actually getting worse not better at this point' - he means that with the proliferation of connected devices carried by the consumer (and we learnt that the average person has 3), there are more sources of information, and they are more 'silo'd' than ever. 'You're looking at a smaller and smaller piece of a journey'. Further frustrations come from the fact that 'platforms for manufacturing insight' [what a ghastly concept - Ed] are 'not yet there in a lot of research agencies', and neither is the correct skill set.

Bowater - who raised a laugh by saying he had nine connected devices, 'which puts me in the younger generation' - also felt some frustration with the concept at the moment, and came out with arguably the most memorable soundbite of the session when he said 'Big data is not the data I asked for'. He contrasted this with survey data, although it's clear he's not heavy on traditional research. Sky, he says, expects different things from its research agencies in this new era of rapid feedback and data explosion. 'The majority of the time I don't need the third decimal place... I just need to know where to dig'. He went on to add that there was still a place for more robust and careful feedback, especially where he had made up his own mind and now needed to make a business case for his decision.

Whitty also talked about this 'horses for courses' approach to data requirements, pointing out that within RBS there were many thousands of data users 'all of whom have separate customers' and different needs in terms of insight. One quick and cheap method of getting this was text analysis, he said, with online conversations in mind, although he conceded that this was 'not foolproof', occasioning some murmuring in my section of the audience at least from those who felt this was a considerable understatement.

All in all it didn't seem to focus too tightly on big data, but it was good to hear some clients who evidently had very hands-on knowledge of different data sources talking about their preferences and experiences, and good to hear a seemingly honest assessment, even when it didn't bode very well for research. Bowater said at one point an agency had helped him put together a useful piece of research which enabled him to use mostly DIY technologies, and had charged him fifty pounds; Riseley said Google increasingly rejected serious pretesting in favour of small-scale live launches - 'randomised experiments' which he likened to the method used for clinical trials. Not much scope for agency involvement there either, I fear.


If there was a general problem with the debates, it's that I came out of them still feeling like we hadn't really scratched the surface of big data and its problems and applications. I suspect that feeling will persist for many years while we and industry and society as wholes come to terms with it. In this format, it's just one topic, but there will be - and of course already are - many big data-centred conferences looking at all aspects, and we hope and trust market researchers will be heavily involved in much of the debate.


All articles 2006-22 written and edited by Mel Crowther and/or Nick Thomas unless otherwise stated.